Last weekend we accidentally discovered incredibly peaceful and picturesque place with ponds, rivers, bridges and lots of wildlife! This serene place is Cannop Ponds in Forest of Dean, which is well known for it's beauty. I enjoyed every moment of our walk there!
---
Praėjusį savaitgalį mes visai atsitiktinai atradome nuostabų gamtos kampelį su tvenkiniais, upėmis, kriokliukais, tiltais ir ore tvyrančia ramybe. Mėgavausi kiekviena akimirka! Ši vieta yra savo išskirtiniu grožiu garsėjančiame miške Forest of Dean ir vadinama Cannop Ponds.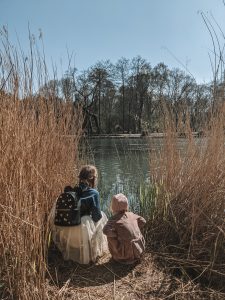 Watching birds
This place is perfect for little explorers! So many things to be discovered. But the best things is that kids can enjoy splashing in the water on hot summer days! My little one enjoyed paddling in the water most of the time, while Melita was having fun on swings. If you enjoy spending time in nature and wild walks, you will love this place!
---
Ši vieta tiesiog tobula mažiesiems nuotykių ieškotojams. Tiek daug atradimų! Turbūt vienas smagiausių dalykų, kad galima pabraidyti vandenyje. Mano mažoji beveik visą laiką praleido žaisdama vandenyje, kol didžioji sukosi ant miško supynių. Jeigu jūsų šeima mėgaujasi buvimu gamtoje, ši vieta jums tikrai patiks.
You can find here not only walking but cycling trails too. There are two large ponds but we were unable to explore the second one as we had limited time. But we hope to return here soon again and explore more!
---
Čia yra ne tik vaikščiojimo, bet ir dviračių takai. Kadangi mūsų laikas buvo ribotas, iš dviejų ten esančių ežeriukų, apėjome tik dalį vieno. Bet mums ten taip patiko, kad nusprendėme kitą kartą sugrįžti ilgesniam pasivaikščiojimui su pikninku.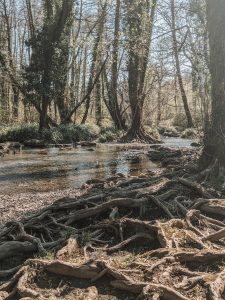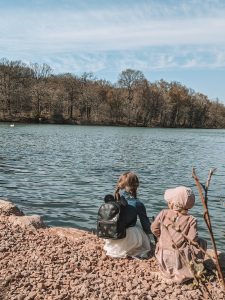 Things to know before coming
Family Friendly. Yes
Dog friendly. Yes
Parking. Yes (recently became pay & display)
Pushchairs/Wheelchairs. Yes and No. The route around the ponds is unsuitable for pushchairs but there are some tracks that are fine.
Other. Picnic area by the bridge with a catering unit offering some refreshments. However, there are no toilets.
---
Vieta draugiška šeimoms su vaikais, šunų augintojams. Neseniai mokama patapusi mašinų parkavimo aikštelė, šalia tilto yra staliukai ir kioskelis, kuriame galima įsigyti gėrimų ir užkandžių. Tačiau nėra tualetų. Dali takelių aplink ežerą nėra tinkami pasivaikščiojimui su vežimėliais, tačiau dalį teritorijos galima apeiti ir su vežimėliais.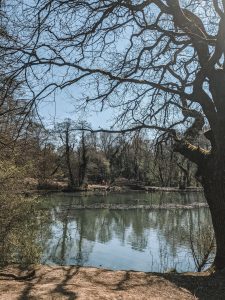 More Wild Walks
Disclaimer. Please note, I have not been paid for this post. As always, I have shared my honest opinion.
Love,
Egle