I try to apply simplicity approach to all aspects of my life, including motherhood. I became the happiest when I stopped worrying about what others may think and started living by following my heart and values. Second-hand gift? Why not? So instead of buying something new, we had a chat with my older daughter and decided to upcycle her old Ikea play kitchen and regift it for the little one on her first birthday. In this way, we'll not only bring back to life an old toy but save planet resources and money. Here is the Before and After.
---
Viskam savo gyvenime taikau paprastumo principą, įskaitant ir motinystę. Laimingiausia gyvenime tapau tada, kai išsilaisvinau nuo minčių apie tai, ką kiti pagalvos ir pradėjau gyventi klausydama tik savo širdies ir pagal savo vertybes, o ne kitų primestines nuostatas. Dovana iš antrų rankų? Kodėl gi ne! Todėl vietoj to, kad pirkčiau prašmatnią dovaną dukrytei pirmojo gimtadienio proga, su vyresnėle pasitarėm ir nusprendėm, kad atnaujinę jos senąją Ikea virtuvėlę, padovanosime ją mažylei. Taip ne tik prikelsime antram gyvenimui seną žaislą, bet ir sutaupysime gamtos resursus bei pinigų. Taigi, Prieš ir Po.
BEFORE
Play Kitchen was one of my daughter's favourite toy for approximately 6 years. I already posted how I made a little shop at the back of it and lots of crochet play food. Since we moved to our new home last year, Melita decided she doesn't want it in her room anymore, so we left it in the shed for an outdoor play in the summer. After all these years it was well-loved and used.
---
Virtuvėlė buvo vienas iš mano dukros mylimiausių žaislų, su kuriuo ji žaidė madžaug 6 metus. Kažkada jau dalinausi įrašais apie tai, kaip virtuvėlės gale padariau parduotuvėlę ir mano pačios gamintus virtuvės aksesuarus, nertą maistą ir tt. Praėjusiais metais, kada persikraustėme į savo naujus namus, Melita nusprendė, kad virtuvėlės savo kambaryje jau nebenori. Todėl mes ją palikome sodo namelyje, kad vasarą galėtų žaisti lauke. Kaip matote, virtuvėlė buvo labai mylima ir dėl to, stipriai padėvėta.
After a bit of search, I found some much inspiration on Instagram. As Meya still hasn't got her own room and the kitchen is going to stay in a dining room, I was thinking to go with rattan look as it matches our environment and style. But after seeing the stunning Rebecca's @rvk_loves play kitchen hack, I was convinced!
The most difficult part was to find rattan sheets as they're very expensive. You can imagine how happy I was when I spotted that someone on Facebook was getting rid of these rattan chairs! Even though there were some holes in sheets, I only needed a little bit for my project so it was fine. After removing the rattan part I passed the chairs for other people for their own projects.
---
Po šiek tiek paieškų, daugiausia idėjų ir įkvėpimo projektui radau Instagram'e. Kadangi Mėja dar neturi savo kambario ir virtuvėlė bus valgomajame, įsivaizdavau, kad geriausia ten tiks pintų šiaudų (rattan) stiliaus virtuvėlė. O kada pamačiau @rvk_loves projektą, visiškai įsimylėjau rattan stiliaus virtuvėlę!
Sunkiausia buvo rasti pintų šiaudų lakštų už padorią kainą. Galite įsivaizduoti, kaip apsidžiaugiau pamačiusi, kad kažkas Facebook'e atidavinėja šias kėdes! Nors pinti lakštai buvo suplyšę, man jų projektui pakako, kadangi reikėjo labai ne daug. Išpjovusi lakštus, kėdes perleidau kitiems žmonėms.
When I painted the kitchen in white and tap with the sink in brush gold, to match our kitchen. I used Rustoleum paint that I had at home left from the previous projects.
---
Tada nudažiau virtuvėlę baltai, o kriauklę ir kraną aukso spalva, kad derėtų prie mūsų virtuvės. Naudojau Rustoleum dažų likučius turėtus namuose.
My husband stapled the rattan sheet with the staple gun. We also changed the plastic handles into the wooden ones and added wooden knobs as oven dials. I also replaced the original plastic hob with a wooden one – I simply used a wooden chopping board for it. I spray painted some wooden circles (these were parts of an old box) in black (when sprayed the lids of my jars) and added them on a hob.
---
Vyras šiaudinius lakštus prišaudė su specialiu įrankiu, plasikines rankenėles pakeitėme medinėmis ir pridėjome medinius jungtukus orkaitei. Seną plastikinę kaitlentę taip pat pakeitėme medine, tam tiesiog panaudojau pjaustymo lentelę. Mėjai sulaužius seną medinę dėžutę, pasilikau nuo jos skrituliukus, kuriuos nudažiusi juodai (tuo pačiu metu, kada dažiau stiklainiukų dangtelius), priklijavau ant medinės kaitlentės.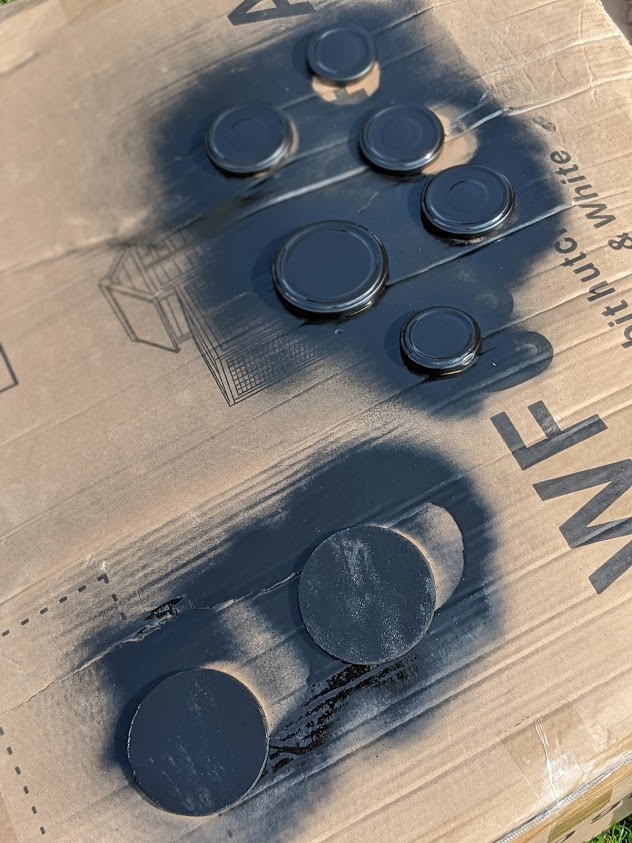 AFTER
I am so pleased with the final look! It feels like a new kitchen and Melita now enjoys playing here again together with her little sister.  As our home now is still in a renovation phase, the play kitchen is in a temporary place but I am going to move it later at the front of the kitchen, so Meya can play there while I'm cooking. It will like an extension of the kitchen as her little mini kitchen version. As I am interested in Montessori, I am planning to create there a little water station, so Meya can get herself a drink and clean spills with a cloth. As I saved lot's of money by upcycling kitchen instead of buying a new one, I bought a little brush with a dustpan, so she can help me clean around. We are still using all play food that I made for Melita (it's a perfect add for my handmade toys! 🙂 They last for years!), but I am going to make some more!
---
Esu labai patenkinta galutiniu rezultatu! Virtuvėlė atrodo lyg nauja ir Melita vėl čia žaidžia, dabar jau kartu su savo maža sesute.  Kadangi mūsų namas dar vis remontų įkarštyje, virtuvėlė stovi laikinoje vietoje. Tačiau vėliau planuoju ją statyti prie virtuvės, kad Mėja galėtų ten žaisti kol aš darbuojuosi virtuvėje. Tai bus tarsi virtuvės tęsinys, mini virtuvės variantas. Kadangi domiuosi Montessori metodika, planuoju čia įrengti ir vietą, kurioje Mėja pati galės įsipilti vandens, kartu su šluoste, skirta pavalyti išpylimams. Kadangi virtuvėlė beveik nieko nekainavo, nusprendžiau nupirkti mažą šluotelę su semtuvėliu, kad mažoji galėtų man padėti tvarkytis – juk vaikams taip patinka viską kopijuoti! Ir nors vis dar naudojam mano nertas daržoves (čia puiki reklama man 🙂 Daržovės po tiek metų vis dar puikios būklės!) planuoju greitu metu pagaminti daugiau!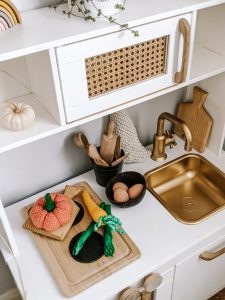 Disclaimer. Please note, I have not been paid for this post. As always, I have shared my honest opinion.
Love,
Egle