People are using dryer sheets to soften clothes and reduce static for years. However, they are typically saturated with chemicals and perfumes. If you are looking for a chemical-free alternative to dryer sheets, you should consider Wool Dryer Balls. They will save lot's of money and planet resources in the long run!
---
Daugybė žmonių naudoja skalbinių džiovinimo servėtėles, kad skalbiniai taptų puresni, minkštesni ir sumažėtų statinis krūvis. Tačiau tokios servėtėles dažniausiai būna ipregnuotos chemikalais ir sintetiniais kvapikliais. Jeigu ieškote natūralesnės alternatyvos, išmėginkite vilnos kamuoliukus skalbinių džiovykėlms. Jie sutaupys ne tik daug pinigų, bet ir planetos išteklių.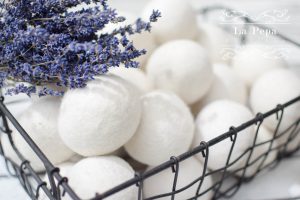 How do Wool Dryer Balls Work?
The primary benefits of wool dryer balls are that they are made from all-natural materials and help to dry laundry more quickly. The science behind dryer balls is simple. During dry cycles, dryer balls create separation between layers of clothing which allows hot air to circulate more easily and dry the load faster. Without dryer balls, wet clothing sticks together for the first several minutes of the dry cycle until it becomes dry enough to separate on its own.  Wool balls absorb moisture which aids in drying but they also release moisture which reduces wrinkles and static.
---
Didžiausi vilnos kamuoliukų pliusai yra tai, kad jie yra visiškai natūralus, be jokių cheminių ir sintetinių priedų ir kad sumažina skalbinių džiovinimo laiką. Ir čia nėra jokio didelio mokslo, tiesiog džiovinimo metu kamuoliukai atskiria drabužių sluoksnius, taip pagerina oro cirkuliaciją ir drabužiai greičiau išdžiūsta. Be kamuolių, drabužiai iš pradžių būna sulipę ir atskiskiria tik tada, kada būna pakankamai pradžiuvę. Vilnos kamuoliukai dar ir sugeria drėgmę kuri padeda greičiau džiūti skalbiniams pradžioje, o vėliau tą drėgmę pamažu išleidžia, taip sumažinamas drabužių elektrinimasis ir susilamdymas.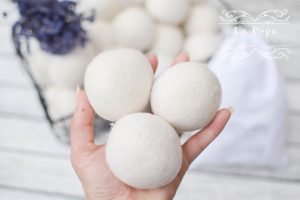 How to use Wool Dryer Balls?
Wool dryer balls will effectively reduce drying time – the more balls you use, the faster your load will dry. This will help you to save money on energy and to protect our planet resources. Grab your dryer balls and just throw them into the dryer along with your laundry. That's it, your clothes dryer and the dryer balls will do the rest!
Wool dryer balls should last for approximately 1,000's of loads. They are heavy, yet soft and don't make as much noise as the plastic kind. One of the best advantages of wool dryer balls is that you can add a few drops of essential oil, like the lavender one, on the dryer balls to infuse a wonderful scent to your clothes.
---
Vilnos kamuoliukai efektyviai sumažina džiovinimo laiką – kuo daugiau kamuoliukų naudosite, tuo greičiau skalbiniai išdžius. Taip sutaupysite daug pinigų ir brangių planetos išteklių. Tiesiog įmeskite keletą kamuoliukų kartu su skalbiniais. Viskas, skalbiniai ir kamuoliukai visa kita padarys patys!
Kamuoliukai turėtų atlaikyti maždaug tūkstantį skalbimų. Jie yra sunkūs, bet minkšti ir nesukelia tiek triukšmo kiek plastikiniai kamuoliukai, Tačiau vienas geriausių vilnos kamuoliukų pliusų yra tas, kad jų pagalba skalbiniams galite suteikti norimą aromatą – tiesiog užlašinkite ant jų keletą lašiukų mėgiamo eterinio aliejaus.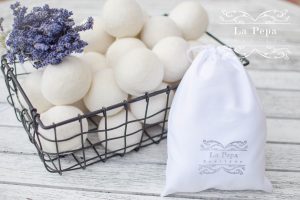 These handmade natural Wool dryer balls are now available on my shop (UK delivery only) or Etsy Shop (worldwide delivery).
---
Rankų darbo natūralių  vilnos kamuoliukų nuo šiol galite įsigyte mano parduotuvėje (siuntimas tik UK ribose) arbaEtsy parduotuvelėje (siuntimas visame pasaulyje).
Love,
E.