There is nothing more miraculous than bringing a baby into the world. But when a colicky baby is in discomfort and pain, the whole experience can be overwhelming, leaving parents to feel powerless, insecure, and frustrated. However, infantile colic is a common problem in babies in the first few months and all we can do is trying to help them to go through this stage. There are some natural remedies that I found effective with my little one and I hope it may work for your baby too.
---
Nėra nieko stebuklingesnio už vaikelio gimimą. Tačiau pilvuko skausmai, kuomet kūdikis verkia iš skausmo, gali greitai užtemdyti gimimo džiaugsmą,  tėvai pasijaučia bejėgiai, sumišę ir išvargę. Nors pirmaisiais mėnesiais tai yra įprasta leliukų problema, kiek įmanoma bandome jiems padėti, nuraminti ir sumažinti skausmą. Dalinuosi su jumis natūraliais pilvuko skausmų sumažinimo būdais, kurie efektyviai malšino skausmą mano dukrytei ir galbūt, pagelbės ir jūsų mažyliams.

Natural Remedies for Colic Babies
Burping. Burping helps to get rid of some of the air that babies tend to swallow during feeding. Therefore burping after each feed may prevent colic.  Some babies don't burp often however, mine did every time I would lift her for a burp.
Tummy time. During the day, I aimed for regular tummy time as it helps get rid of the gas that could be trapped in the baby's abdomen. I tried to put her on a tummy during the playtime a few times a day and or carried her around in my hands in Pressure Position – laying your baby in your arm like a football, face turned to the side but the belly facing downward. Since introducing regular tummy time, I noticed that colic issues really improved.
---
Atrūginimas. Atrūginimas padeda išleisti lauk orą, kurio vaikučiai priryja valgymo metu. Todėl atrūginimas veikia kaip prevencinė priemonė pilvo skausmams. Nors ne visi vaikai atsirūgsta po kiekvieno valgio, manoji yra iš tų, kurie atsirūgsta kiekvieną kartą.
Gulėjimas ant pilvuko. Dienos metu, stengiausi kuo dažniau dukrytę laikyti/guldyti ant pilvuko, kadangi tai padeda pasišalinti pilvuke susikaupusioms dujoms. Keletą kartų per dieną guldžiau ant pilvuko žaidimų metu ir dažnai nešiodavau rankose paguldytą ant pilvuko, prilaikant galvytę – kaip nuotraukoje. Pastebėjau, kad nuo tada, kai pradėjau daugiau guldyti/nešioti ant pilvuko, pilvuko skaumai stipriai sumažėjo.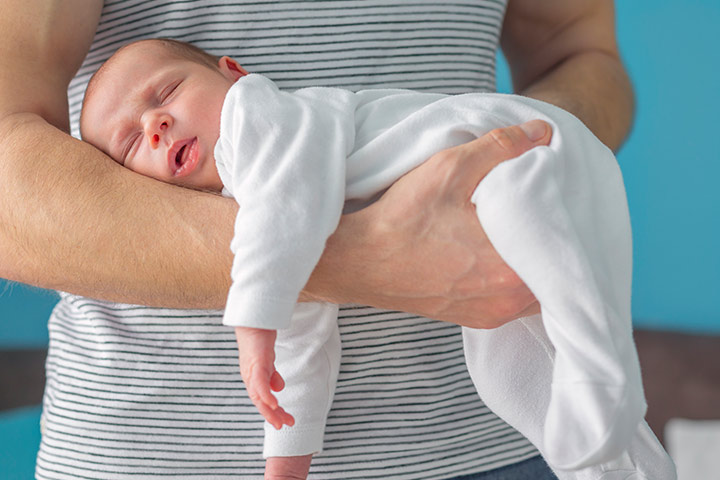 Photo from the internet
Massages. Baby tummy massage for colic was really helpful in relieving the gas and bloating, and saving baby from colic pain too. Usually, we did that during the nappy change and always before bedtime, after the bath. I have been using Inlight Calendula & Damask Rose soothing balm and NYR Organic massage oil which was gifted to me however, a simple sweet almond, coconut oil is perfectly fine too.
Masažai. Specialus masažas nuo pilvuko skausmų irgi stipriai pagelbėjo sumažinti pilvuko pūtimą ir skausmus. Dažniausiai masažavau dukrytę sauskelnių keitimo metu ir kiekvieną vakarą prieš miegą, po vonios. Masažams naudojau Inlight Calendula & Damask Rose raminantį balzamą ir NYR ekologišką masažo aliejų, kuriuos gavau dovanų, tačiau paprastas migdolų ar kokosų aliejus irgi puikai tinka.
Calm environment and white noise. Baby's nervous system is still developing and their senses are easily overstimulated. In the evening I turn off the tv, dim the light and talk in a quiet tone with my little one.
Thermal pillow. I made for my little one thermal cherry pit and buckwheat hull pillow. When I see she is suffering from colic, I throw a pillow for a few minutes in the oven and then place it on baby's gut to relieve pain. These little sachets work wonders because just a little heat helps soothe their aching tummy and increases blood flow. Also, heat provides a sense of comfort and can give great pleasure to a baby even without colic.
---
Rami aplinka ir baltas triukšmas. Kūdikio nervinė sistema vis dar formuojasi ir per didelė stimuliaicja juos greitai išvargina. Vakarais televizorius būna išjungtas, šviesos prigesintos, o kalbu su kūdikiu tyliu, ramiu tonu.
Terminė pagalvė. Pilvuko skausmas sumažinti pasiuvau šildomų pagalvėlių iš vyšnių kauliukų ir grikių lukštų. Tik prasidėjus pilvuko skausmams, pašildau pagalvėlę ir dedu ant pilvuko. Jos veikia tikrai efektyviai, nes šildymams suaktyvina kraujotaką. Be to, šiluma suteikia kūdikėliui komforto jausmą.
You can buy buckwheat shell or cherry pit thermal pillow in my shop.
---
Šių pagalvėlių galite įsigyti mano parduotuvėlėje.
Vibration – yoga ball. The vibration and movement are often calming. So on those difficult evenings with the crying baby, I would turn on the white noise, wrap my baby in a blanket with a thermal pillow on the tummy and bounce on my yoga ball. She would calm down quite quickly and then falls asleep.
Colic in newborns and infants is very common. At times, even the best of natural and home remedies fail to give any relief to your baby. You just have to go through that stage with patience, love and care. On those difficult evenings just remember – nights are long, but years are short.
---
Vibracija – jogos kamuolys. Judesys ir vibracija ramina kūdikus. Todėl tais sunkiais vakarais, kuomet kūdikis išvien verkia, įjungdavau baltą triukšmą, įvyniojus į užklotėlį uždėdavau terminę pagalvėlę ir supdavausi ant jogos kamuolio. Greitai dukrytė nurimdavo ir po kiek laiko užmigdavo.
Pilvuko skausmai mažyliams yra įprasta problema. Kartais jokios priemonės nepadeda nuraminti verkiančio mažylio ir jums tiesiog kantriai, su meile ir rūpesčiu teks išlaukti šio periodo pabaigos. Tais sunkiais vakarais tiesiog atminkite, jog visa tai laikina ir labai greit praeis. Kaip sakoma naktys ilgos, tačiau metai trumpi.
Disclaimer. I have been gifted Ginger Fox Beauty products. Some of Fushi products have been gifted, some purchased for my own money.
Please note, I have not been paid for this post. As always, I have shared my honest opinion.
Love,
Egle