When I started growing tomatoes in my tiny greenhouse, I definitely didn't expect to be rewarded with such amount of tomatoes! It was impossible to eat everything so I decided to preserve some for winter by making tomato sauce. I decided to make two different types – baked tomatoes sauce and sauce with dried fruits. Here are the recipes!
---
Kuomet pradėjau auginti pomidorus savo nedidukame šiltnamyje, tikrai nesitikėjau būti apdovanota tokiu jų kiekiu! Visų suvalgyti neįmanoma, tad nusprendžiau kažkiek jų išsaugoti žiemai padažo pavidale. Nuspredžiau išbandyti du skirtingus padažus – keptų pomidorų padažą ir padažą su ananasais ir abrikosais. Dalinuos ir su jumis!
Baked Tomatoes Sauce
This sauce is seriously delicious! You can eat it on its own! No wonder that is so popular on Instagram! The author of this recipe is  Solveiga and below I shared the original recipe however, it's in Lithuanian so I translated it for my English readers:
You will need:
3kg tomatoes
2 onions
1 clove of garlic
2 sweet peppers
Herbs up to your taste
3/4 cup of sugar
2-3 tbs salt
Oil
Cut tomatoes, sweet peppers and onions into chunky pieces, place on a tray. Add garlic, some oil, salt, sugar and herbs. I used thyme and wild garlic. Bake in the oven at 180C for about an hour, then pour everything into a pot and blend everything. Heat the sauce until boiling and it's done!
---
Šis padažas tikrai nuostabaus skonio! Drąsiai galima valgyti ir vieną! Nieko keisto, kad receptas toks populiarus tarp Instagram merginų! Recepto autorė yra Solveiga (ačiū Solveiga už tokį skonį!) ir jį galite rasti apačioje. Tiesa, uš žolelių naudojau džiovintą čiobrelį ir meškinį česnaką.
https://www.instagram.com/p/CDbwR4OAEpA/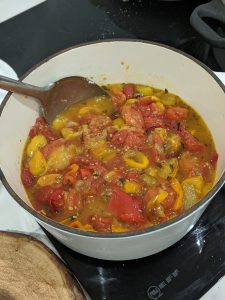 Tomato Sauce with Dried Fruits
I got this recipe from my aunt after tasting the sauce last year. She gave me a few jars and in winter I used it in stews, I absolutely loved it! So this year decided to make my own!
You will need:
3 kg tomatoes
2-3 sweet peppers
3 onions
3 cloves of garlic
100 gr dried pineapple
100 gr dried apricots
0.5 cup of white vinegar
2 tbs salt
250 gr sugar
---
Šis receptas yra mano tetos. Praėjusią žiemą ji man davė keletą stiklainiukų padažo, kurį aš naudojau įvairiems daržovių troškiniams. Man padažas taip patiko, kad pasiprašiau pas tetą recepto!
Jums reikės:
3 kg pomidorų
2-3 saldžiosios paprikos
3 svogūnų
3 skiltelės česnako
100 gr džiovintų ananasų
100 gr džiovintų abrikosų
0.5 stiklinė acto
2 šaukštai druskos
250 gr cukraus
Smulkiai supjaustykite pomidorus, paprikas, džiovintus vaisius ir sudedėkite į puodą. Virkite maždaug valandą, į virimo pabaigą supilkite likusius ingredientus ir po to sublenderiuokite. Viskas!
These are not only a great way to use the excess of tomatoes but can make a lovely Zero Waste gift too!
---
Šie padažai yra ne tik puikus būdas sunaudoti pomidorų perteklių,  bet gali būti ir puikia Zero Waste dovana!
Love,
E.