Meet Simona Uvarovaite – eco-designer and "Yours Again" founder. She believes that denim is one of the most interesting materials, which becomes only more charming by time. Yours Again aims to embrace the beauty and imperfection of reclaimed denim and transform it into unique pieces: denim vests, accessories and homeware items. Today on Eco Chat we are talking about Yours Again story.
---
Susipažinkite su eko dizainere ir prekinio ženklo "Yours Again" įkūrėja – Simona Uvarovaite. Ji tiki, kad džinsas yra viena įdomiausių medžiagų, kuri su laiku įgauna vis daugiau šarmo. Yours Again siekia priimti grožį ir netobulumą perdirbto džinso, kuris Simonos rankose prikeliamas antram gyvenimui – seni džinsai virsta džinsinėmis liemenėmis, aksesuarais, ir virtuvės produktais. Šiandien Eco Chat rubrikoje kalbamės apie Yours Again atsiradimą ir gyvavimo istoriją.
"In order to be really sustainable and not to harm the environment, you should not produce anything at all"
Tell us about yourself.
I always knew I want to be a designer. I was admiring interior design since I was a child. Therefore after finishing school, I started interior design studies at the Academy of Arts in Vilnius. Even though I was dreaming about these studies for a long time, after one year I terminated my studies and decided to go studying in Copenhagen. I wanted new challenges, new environment and new connections. First two years I studied design technology and then enrolled to study a sustainable fashion.
When you became interested in a Sustainable Fashion?
I always was "green", however, I became really interested in a sustainable fashion only when I started studying it. During our studies, we learnt a lot about fashion impact on the environment, various unethical manufacturing practices and behind scenes of the fashion industry. I couldn't ignore what I knew so I started deepening my knowledge on my own. I felt like it's impossible to live the way I lived before – I wanted to change my shopping habits and tell everyone what I know.
---
Papasakokite apie save.
Visada žinojau, kad noriu būti dizainere. Nuo mažens mane žavėjo interjero dizainas, todėl baigusi mokyklą įstojau į Vilniaus Dailės akademiją, interjero dizaino specialybę. Ir nors šios studijos ilgai buvo mano svajonė, pasimokiusi ten metus, nusprendžiau nutraukti mokslus ir išvažiuoti mokytis į Kopenhagą. Norėjau naujų išbandymų, naujos aplinkos ir naujų pažinčių. Pirmus du metus mokiausi dizaino technologijų, tada įstojau į tvarios mados bakalaurą.
Kada pradėjote domėtis tvaria mada?
Visada buvau 'žaliukė', tačiau tvaria mada domėtis pradėjau tik įstojus į bakalaurą. Mokydamiesi daug sužinojom apie mados daromą žalą gamtai, įvairias neetiškas gamybos praktikas bei šios industrijos užkulisius. Nebegalėjau ignoruoti to, ką žinau ir pradėjau pati gilintis ir plėsti savo žinias. Pačiai atrodė nebeįmanoma gyventi taip, kaip iki tol ir norėjosi pakeisti savo pirkimo įpročius bei pasakoti aplinkiniams tai, ką žinau pati.
Tell us "Yours Again" story.
"Yours Again" arose from the big desire to create ethically and aesthetically. After finishing my studies I completed my internship at one Danish designer. I helped him to source eco-friendly suppliers. One day we were discussing with him how everyone understands sustainable fashion from their own perspective and he told me something, that I couldn't get out of my head: in order to be really sustainable and not to harm the environment, you should not produce anything at all. In that case, you are not consuming resources and not creating any waste. His words hold true, however, I couldn't accept it as I was dreaming of being a designer all my life. I started to think, how to create and produce without using new materials. And then I came up with the idea to use what is already produced. I decided to start my own business and create new clothes from old.
---
Kokia yra "Yours Again" atsiradimo istorija?
"Yours Again" atsirado iš didelio noro kurti etiškai ir estetiškai. Baigusi mokslus atlikau praktiką pas vieną danų dizainerį. Jam padėjau ieškoti aplinkai draugiškesnių tiekėjų. Vieną dieną su juo diskutavome apie tai, kaip skirtingai kiekvienas supranta tvarią madą ir jis pasakė tai, kas man ilgą laiką neišėjo iš galvos: norint būti tikrai tvariu ir nekenkti aplinkai, turėtum iš viso nieko negaminti. Tada ir ištekliai nenaudojami, ir atliekų nelieka. Tai buvo labai teisingi žodžiai, bet aš, visą gyvenimą svajojusi tapti dizainere, nenorėjau susitaikyti su šia mintimi ir pradėjau galvoti, kaip galima kurti ir gaminti nenaudojant naujų žaliavų. Taip ir kilo mintis naudoti tai, kas jau sukurta. Nusprendžiau pati pradėti savo veiklą bei pabandyti kurti naujus drabužius iš senų.
Why have you chosen denim for your creative work? Where do you get it from?
I wanted to work with the material which is easy to be sourced, easy to work with and quite predictable. Denim looked like a perfect choice – it can be easily assorted by colour, the texture is quite favourable and the most important thing – with time denim becomes more and more charming. I have a few suppliers who sorts out denim, also there are a lot of people who know about "Yours Again" and wants to donate their unwanted denim. I believe people like to know where their unwanted clothes end up and to see their transformation.
Do you do all of your sewing alone?
I try to, as much as I can because then I can easily control all the designing process, pick matching colours and make changes.  However, sometimes I simply don't have enough time and need help.
---
Kodėl savo darbams pasirinkote būtent džinsą ir iš kur jo gaunate?
Norėjau dirbti su medžiaga, kurios lengva gauti, su kuria lengva dirbti, bei kuri būtų gan nuspėjama. Džinsas pasirodė kaip tobulas pasirinkimas – jį lengva atrūšiuoti spalvomis, jo gan palanki tekstūra bei, kas svarbiausia – su laiku džinsas įgauda tik daugiau šarmo. Turiu keletą tiekėjų, kurie atlieka šį išrūšiavimą, taip pat nemažai žmonių, žinančių apie "Yours Again" veiklą, nori atiduoti savo nebenešiojamus džinsus. Manau, kad žmonėms patinka žinoti, kur atsiduria jų nebenešiojami drabužiai bei matyti, kuo jie pavirsta.
Ar visus produktus siuvate pati?
Stengiuosi kuo daugiau siūti pati, kadangi tada galiu lengvai kontroliuoti visą dizaino procesą ir parinkti tinkamas spalvas bei daryti pakeitimus eigoje. Tačiau kartais tam nelieka laiko ir reikia pagalbos.
How do you think, are Lithuanians interested in sustainable fashion? Is it difficult to find ethical fashion client?
I believe we are in a good direction. I remember after finishing the first course I was looking for an internship in Lithuania – I couldn't find even one sustainable brand. It was like 5 years ago. Now there are some options available to choose from! Even though Lithuanians are still quite sceptical about sustainable fashion, I believe it's only a matter of time when people will understand more and will accept a sustainable fashion.
There are quite a few directions of "Yours Again" activity -it's fashion, interior and kitchen products. Even though it's quite difficult to find clients for my fashion products, we already have some business clients – we offer upcycled denim aprons for cafes. Our business clients are very happy to be involved in our creation process, we always take on board their opinion and we give them a chance to contribute to the sustainable development in Lithuania.
---
Kaip manote, ar lietuviai domisi tvaria mada? Ar lengva surasti Lietuvoje surasti etiškos mados klientą?
Manau, judame teisinga kryptimi. Pamenu, kai po pirmo kurso ieškojau praktikos Lietuvoje – negalėjau rasti nei vieno tvarios mados ženklo. Tai buvo gal prieš 5 metus. Dabar tikrai būtų iš ko rinktis! Ir nors lietuviai kolkas dar skeptiškai į tai žiūri, manau tai tik laiko klausimas, kada tvari mada taps labiau suprantama ir priimtina.
"Yours Again" turi keletą veiklos sričių – tai mados, interjero bei virtuvės produktai. Ir nors mados klientų rasti kolkas gan sunku, tačiau verslo klientų jau turime – siūlome perdirbto džinso prijuostes kavinėms. Verslo klientai džiaugiasi galimybe aktyviai dalyvauti kūrybos procese, į jų norus visada atsižvelgiama bei jiems suteikiama galimybė prisidėti prie tvaraus vystymosi Lietuvoje.
"Yours Again" – is it your main work?
This is my main work, however, I also work as a freelancer. I help for Danish companies to find factories in Lithuania and carry out various graphic artworks.
What are your future plans and visions related to "Yours Again"?
My biggest dream probably would be to have my own factory, where all upcycling process would be smooth and easily controlled. One of my near future plans is to include a social group in my work. I would love to help to include socially fragile people into community activities.
---
Ar "Yours Again" yra pagrindinė jūsų veikla, ar turite ir kitą darbą?
Tai yra pagrindinė mano veikla, tačiau taip pat dirbu kaip laisvai samdoma darbuotoja. Padedu danų kompanijoms rasti gamyklas Lietuvoje, atlieku įvairius grafinius darbus.
Kokie jūsų ateities planai bei svajonės susiję su "Yours Again"?
Didžiausia svajonė turbūt būtų turėti savo gamyklą, kur visas perdirbimo ir dizaino procesas būtų sklandus ir lengvai kontroliuojamas. O vienas artimesnių ateities planų būtų kokios socialinės grupės įtraukimas. Labai norėčiau prisidėti prie socialiai remtinų žmonių įtraukimo į visuomenės veiklą.
What is the most exciting thing about your creative work and the most difficult?
With no doubt, the most difficult thing is a manufacturing process. We have to disassemble all denim in order to save every centimetre of the material. When we are selecting matching colours and textures and only then we sew everything. Very often there isn't enough of denim, we have to disassemble a new pair of jeans and start everything again. However the result we get after completing everything successfully is absolutely the best – our final product is always unique, charming and it's like a confirmation that it was worth all the hassle!
What book to read/film to watch you would recommend for everyone?
Safia Minney "Slave to Fashion".
---
Kas jūsų veikloje labiausia džiugina ir kas yra sunkiausia?
Sunkiausia – vienareikšmiškai gamybos procesas. Visus džinsus ardome, taip išsaugodami kelis papildomus medžiagos centimetrus. Tada parenkame derančias spalvas ir tekstūras, prideriname lekalus ir viską siūname. Labai dažnai džinso neužtenka, reikia ardyti naują porą, iš naujo derinti. Tačiau tai, ką gauname visa tai sėkmingai atlikę džiugina labiausiai – galutinis produktas visada unikalus, žavintis ir tarsi patvirtinantis – buvo verta!
Kokią knygą paskaityti / filmą pažiūrėti rekomenduotumėt kiekvienam?
Safia Minney ,,Slave to Fashion".
What other sustainable and eco-lifestyle principles you apply in your life?
I am a minimalist, I don't like to hoard unnecessary things. I try to shop intentionally -I buy only what I really need and only from those companies that I believe in and I want to support with my money by buying from them. I don't often go to clothing shops, however, when I go I always spend a lot of time there – I always end up browsing the internet their sustainability policies. I also often shop second-hand clothes and furniture.
Talking about food, I try to avoid unnecessary packaging, I do not buy plastic bags. I think the most important thing is not to feel uncomfortable, all these eco lifestyle principles can be really easily applied in our daily life and becomes a habit.
What would you wish to La Pepa Blog Readers?
I will quote Mahatma Gandhi ,,Be the change you wish to see in the world."
---
Kokius dar tvaraus bei ekologiško gyvenimo principus taikote savo gyvenime?
Esu minimalistė, nemėgstu apsikrauti nereikalingais daiktais. Stengiuosi pirkti atsakingai – perku tik tai, ko man tikrai reikia, iš tų firmų ir kompanijų, kuriomis tikiu ir savo pinigais noriu palaikyti. Drabužių parduotuvėse lankausi retai, bet kai lankausi, tai praleidžiu labai daug laiko – visada internete pradedu skaityti prekinio ženklo 'tvarumo politiką'. Taip pat dažnai apsiperku dėvėtų drabužių arba baldų parduotuvėse.
Perkant maisto produktus taip pat vengiu nereikalingų įpakavimų, neperku plastikinių maišų. Manau, svarbiausia nejausti diskomforto, visi šie ekologiško gyvenimo principai labai lengvai pritaikomi kasdienybėje ir greitai tampa teigiamu įpročiu.
Ko palinkėtumėte La Pepa Blog skaitytojams?
Pacituosiu Mahatma Gandhi žodžius: ,,Be the change you wish to see in the world."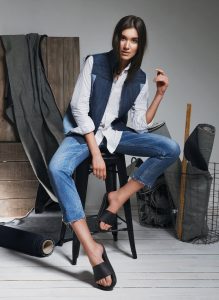 ---
For more information about upcycled fashion please visit Yours Again. And stay tuned for a review and outfit post on Yours Again denim vest and accessories.
---
Thank you for the Eco Chat, Simona!
Disclaimer. Please note, I have not been paid for this post. 
Love,
E.