Today on Eco Chat – an inspirational London based eco-designer Laura Zabo. She is creating eco-friendly fashion by upcycling scrap tyres, that would otherwise end up in a landfill. With a bit of creativity, Laura uses scrap tyres to replace leather in everything from belts, bags and shoes to guitar straps and dog harnesses. When her upcycling journey began and what inspired her – everything revealed in our Eco Chat.
---
Šiandien Eco Chat rubrikoje – ekologiškos mados dizainerė, kurianti ir gyvenanti Londone – Laura Zabo. Ji kuria ekologišką madą perdirbdama naudotas padangas, kurios kitu atveju kauptųsi sąvartynuose teršdamos aplinką. Pasitelkdama savo kūrybiškumą, naudotas padangas Laura paverčia stilingais diržais, batais, rankinėmis, gitarų diržais ar šunų pavadėliais. Kaip prasidėjo ši ekologiško dizaino kelionė ir kas ją įkvėpė – visi atsakymai mūsų pokalbyje.
"We need to find imaginative and creative eco-solutions for the increasing amount of waste on our planet and transform it into useful and sustainable treasure"
Tell about yourself.
I am an eco-designer who upcycles scrap tyres and inner tubes to create high-quality vegan fashion accessories, such as belts, jewellery, guitar straps, dog accessories, handbags and clothing. My range of products continuously expanding and I will soon be introducing a new collection of shoes and sandals. I believe that by using creativity and imagination we can find effective and innovative solutions to clean up our planet.
What inspired you to create Laura Zabo?
I have always been interested in animals, nature and saving the planet, but what really catalyzed my interest was my life-changing trip to Tanzania. I discovered some brightly painted car tyre sandals at a Maasai market and from that moment I was inspired to make it my mission to upcycle as many scrap tyres as I can.
---
Papasakokit apie save.
Aš esu ekologiškos mados dizainerė, kuri perdirba dėvėtas padangas bei kameras paversdama jas aukštos kokybės veganiškais mados aksesuarais, tokiais kaip diržai, papuošalai, gitarų diržai, šunų antkakliai ir pavadėliai, rankinės ir netgi  drabužiai. Mano kūrybinė kolekcija nuolat plečiasi ir netrukus aš pristatysiu naują avalynės kolekciją. Aš tikiu, kad pasitelkdami kūrybiškumą ir fantaziją mes galime rasti efektyvius ir inovatyvius sprendimus, kaip išvalyti mūsų planetą.
Kas jus įkvėpė sukurti Laura Zabo?
Mane visuomet domino gyvūnų gerovė, gamtos bei planetos išsaugojimas, bet iš tikrųjų visa tai katalizavosi po kelionės į Tanzaniją, pakeitusios visą mano gyvenimą. Kelionės metu, Maasai turguje aš pamačiau spalvingas šlepetes, pagamintas iš padangų. Tai ir buvo momentas, įkvėpęs mane gyvenimo misijai – perdirbti kuo daugiau padangų.
What message are you trying to pass for people with your creations?
I want to promote the message of recycling and upcycling and show the world that anyone can do it. I want to inspire others to help clean up the planet and respect nature and every living creature.
What do you do when you're not working?
I love learning new things,  travelling and exploring new places and listening to music. I also enjoy keeping active, doing sports and training my body and mind. My work is my hobby so in my free time, I love to experiment and craft new things that I have never done before.
---
Kokią žinutę siekiate perteikti žmonėms savo kūryba?
Aš siekiu perduoti žinutę apie perdirbimą ir savo pavyzdžiu parodyti, jog kiekvienas gali tą daryti. Aš noriu įkvėpti kitus padėti išvalyti mūsų planetą nuo atliekų, gerbti gamtą ir kiekvieną gyvą būtybę.
Ką veikiate kai nedirbate?
Man patinka mokintis naujų dalykų, keliauti ir atrasti naujas vietoves, klausytis muzikos. Man taip pat patinka būti aktyviai, sportuoti ir treniruoti tiek kūną, tiek protą. Mano darbas yra kartu ir mano hobis, todėl laisvu metu mėgstu eksperimentuoti, bandau kurti naujus dalykus, tokius, kokių dar nebuvau bandžiusi.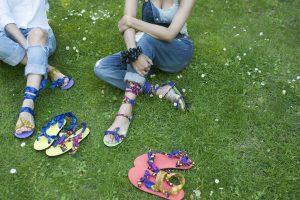 What accomplishment are you most proud of and why?
I love my jewellery and skirts because they are made in the signature ZABO style. I am also proud of my EU-registered sandal design and I am also looking forward to my first cruelty-free and eco shoe collection. I am proud that all my products have my distinct style.
What is something you think everyone should do at least once in their lives?
I think that when you feel a deep karmic calling to do something, do not hesitate, trust your instincts and see what happens.
---
Kokiu savo pasiekimu labiausiai didžiuojatės ir kodėl?
Man patinka mano papuošalai ir sijonai, nes jie atspindi išskirtinį ZABO stilių. Taip pat didžiuojuosi ES registruotu savo batų dizainu ir nekantrauju pristatyti savo pirmą cruelty-free ekologiškų batų kolekciją.  Didžiuojuosi tuo, kad visi mano produkti pasižymi išskirtiniu mano stiliumi.
Which book would you recommend to read for everyone/movie to watch?
Peaceful Warrior – I watch it many times on a regular basis, and I am also constantly watching the videos of contemporary lifestyle gurus.
If you had to describe yourself in five words, what would they be?
Curious, ambitious, creative, brave, a bit mad!
---
Kokią knygą paskaityti/filmą pažiūrėti rekomenduotumėte kiekvienam?
Taikus Karys – žiūrėjau jį daugybę kartų. Taip pat patinka žiūrėti įvairius šiuolaikinio gyvenimo būdo guru videofilmus.
Jeigu galėtumėte save apibūdinti penkiais žodžiais, kokie jie būtų?
Smalsi, ambicinga, kūrybiška, drąsi ir šiek tiek išprotėjusi!
If you could change something in the world, what would it be?
I would like people to love each other more. Human mentality is too judgmental and prejudiced; we think that the world is based on our personal knowledge and we find it hard to accept different beliefs, religions, or behaviours, so humanity is always in conflict with something and with each other.
What would you most like to learn and why?
I would like to learn to be more patient with myself and with others. I would also like to learn to go with the flow, not force things and let things progress in their own rhythm.
What goals do you have for the next five years?
I aim to extend my business to other countries, highlight the importance of recycling/upcycling to the world and to live in balance with our planet.
---
Jeigu galėtumėte pakeisti vieną dalyką pasaulyje, kas tai būtų?
Norėčiau, kad žmonės labiau vienas kitą mylėtų. Žmogaus mentalitetas yra per daug smerkiantis, pilnas išankstinio nusistatymo ir prietarų. Mes tikime, kad pasaulis turi atitikti mūsų asmeninius įsitikinimus ir nepriimame skirtingų įsitikinimų, religijų ar elgesio. Todėl žmonija nuolat skęsta konfliktuose.
Ko labiausiai norėtumėte išmokti ir kodėl?
Labiausiai norėčiau išmokti būti kantri sau ir kitiems. Dar norėčiau išmokti plaukti pasroviui, neforsuodama įvykių ir leisdama jiems progresuoti natūraliai.
Koks jūsų tikslas ateinantiems peniems metams?
Aš siekiu išplėsti savo verslą kitose šalyse, atkreipti dėmesį į perdirbimo svarbą ir gyventi harmonijoje su mūsų planeta.
Can you share some creative eco-solutions with La Pepa Blog readers?
Regarding tyres, I think there are endless solutions to reuse them, for example as shoe soles, furniture and even in building construction.
We should use less plastic and collect all the waste which is recyclable and put it to good use.
I have given up shopping for new products and I try to save and refresh my dresses, or buy second hand or unwanted items. I strive to be an eco-conscious buyer.
I am a proud vegan, I don't use or eat products which harm animals. Every living creature is fantastic in its own way, we must stop categorizing them based on our subjective opinions.
What would you wish for La Pepa Blog readers?
Everyone has an inside artist them and unlimited creativity. We should use these skills to have a happier life, to love each other more and to improve our lives and our surroundings. Together we can make a significant difference to this planet.
---
Gal galite pasidalinti kūrybiškais-ekologiškais patarimais su La Pepa Blog skaitytojais?
Kalbant apie padangas, manau, kad yra daugybė galimybių kaip jas perdirbti – pavyzdžiui panaudoti kaip batų padus, baldus ar netgi statyboms.
Turėtume naudoti mažiau plastiko ir rinkti visas atliekas, kurios gali būti perdirbtos ir naudingai panaudotos.
Aš daugiau nebeperku naujų produktų – stengiuosi saugoti turimas sukneles ar jas atnaujinti, perku dėvėtų drabužių parduotuvėse. Stengiuosi būti sąmoninga pirkėja.
Didžiuojuosi, jog esu veganė – ne tik nevalgau, bet ir nenaudoju nieko, kas gali pakenkti gyvūnams.  Kiekvienas gyvas padaras yra savaip nuostabus, mums derėtų nustoti juos skirstyti remiantis savo subjektyviomis nuostatomis.
Ko palinkėtumėte La Pepa Blog skaitytojams?
Kiekvieno mūsų viduje slypi kūrėjas, su neišmatuojamu kūrybiškumu. Panaudokime šiuos sugebėjimus tam, kad paverstume gyvenimą laimingesniu, kad labiau vienas kitą mylėtume ir kad pagerintume ne tik gyvenimą, bet ir aplinką. Drauge mes galime tiek daug nuveikti mūsų planetos labui!
---
Laura's recycled tyre goods are absolutely leather-free and will make perfect gifts for your loved ones, cyclists, vegans and eco-conscious friends and relatives. Recently it has been PETA Vegan Approved!
For more information or to buy please visit Laura Zabo.

---
Thank you for the Eco Chat, Laura.
My reviews on Laura Zabo Products:
Ethical Pets | Upcycled Tyre Dog lead 
Eco Style | Vegan and Eco-Friendly Upcycled belts for Mother and Daughter