The fashion industry is the second larger polluter in the world after the oil industry. It is also known due to the low wages and poor conditions in developing countries. Today there is a generation of designers who are working entirely differently, who are trying to find a solution. Repurposed fashion and upcycled cothing became a solution. Great example – a charismatic designer Janina Zibireva, a founder of Lech Lecha Designs, who proved that fashion can be meaningful and beneficial. Today on Eco Chat a very sincere and warm chat with Janina which will inspire you to think about giving a second chance for a human and for a robe.
---
Mados pramonė yra antra (iškart po naftos pramonės) pagal aplinkos taršą, garsėjanti mažais atlyginimais ir darbuotojų išnaudojimu besivystančiose šalyse. Šiandien naujos kartos dizaineriai bando atrasti problemų sprendimo galimybes. Dėvėti drabužiai ir jų antrinis panaudojimas tapo keliu spręsti taršą ir besaikį vartojimą. Puikus pavyzdys – charizmatiškoji dizainerė Janina Zibireva, Lech Lecha Design įkūrėja, kuri įrodė, jog mada gali būti prasminga ir naudinga. Šiandien Eco Chat rubrikoje pristatau ypatingai nuoširdų ir šiltą pokalbį su Janina, kuris privers jus susimąstyti apie antrą šansą žmogui bei rūbui.

"When you feel good there is no such a big need to follow new trends, you follow your heart instead"
Tell about yourself. How did you become a designer?
I don't feel comfortable talking about myself, especially lately, when I got a bit more of exposure. Now when all the fuss of the premiere of the collection is in the past, I feel like I'm not doing anything (with regards to Lech Lecha). I probably should blame here my perfectionism and a wish to achieve something major. I do not give enough time for myself to relax or to have a physical and mental rest. Ha ha, I started with negatives!
Talking about myself, I grow up in a small city in Kaunas district. However, I was born in Russia, in Nalchik, not too far away from the Caucasus Mountains. When I was 3.5 years old, my family returned to Lithuanian which was my grandmother's birthplace (she was exiled).  So I am a Lithuanian/Russian mix. Maybe this is a reason of my unconditional love for a humanity – without dividing people in different nationalities, race, and social status. For me, a human is a human, the heart, and a connection is what truly matters.
I was dreaming of being a designer since I was a child. Back then, I was creating clothes for my dolls, Barbies and later for myself. I was using newspapers, bin bags, wooden sticks, old sheets… I am so thankful for my mom who toughs me how to sew! She is still sewing today and taking custom orders. But I am even more thankful for my mother that she never restricted my creativity. Sometimes I wonder how she managed to be so patient with me because I ruined so many shoes, clothes and other items! In our home, an item was always only an item, even if our financial situation wasn't very good. Somehow my mother managed to create such an environment that I always felt very special, I thought I had everything and I always appreciated everything.
I finished a secondary school, never went to the Arts school. I started to design and sew my on collections at age 13! My art teacher always told me that I do not have a talent and I will never make to the Academy of Arts! Once again, thanks to my family, who supported me and told me "At least just try". And I made it! It seemed like reaching Olympus. Studying wasn't easy, but it helped me to grow a lot. Lots of travels and an internship abroad. I even had a chance to work with a famous designer Agatha Rui de la Prada for 3 months and in a Mercedes Benz fashion week in Madrid. This was the time I started to rethink about how I want to create and my position in a fashion world because seeing everything in close brought a lot of despair that unfortunately, in this beautiful world exists so much of vanity, exploitation, and inhumanity.
---
Papasakokite apie save. Kaip pasirinkote dizainerės kelią?
Apie save kalbėti ne visada mėgstu, ypatingai pastaruoju metu gavus daugiau dėmesio. Net baisu kalbėti pačiai ir apskritai atslūgus "fejerverkams" po kolekcijos premjeros ir atėjus šiek tiek ramesniam laikui (kalbant apie LECH LECHA darbus), tai jaučiuosi tarsi nieko gero gyvenime nedaranti. Tikriausiai bus tas mano perfekcionizmas kaltas arba per didelis noras nuolat kalnus versti. Nemoku duoti sau laiko pailsėti, tiek fiziškai tiek morališkai. Haha pradėjau nuo minusų!
O apie save, užaugau mažam miestelyje Ežerėlyje, Kauno rajone. Gimiau Rusijoje Nalčike, Kabardino Balkarijoje netoli Kaukazo kalnų. Kai man buvo 3,5 metų su visa šeima sugrįžome į mano a.a. močiutės (kuri buvo lietuvė tremtinė) gimtinę Lietuvą. Tad esu "mišrūnėlė" rusiškai lietuvišku krauju. Gal dėl šios priežasties jaučiu meilę žmonijai, neskirstant rasėmis ar tautybėmis, o dabar dar ir socialiniais statusais. Žmogus man tiesiog žmogus, svarbiausia jo širdis ir tikras santykis. Šias vertybes nuo vaikystės puoselėjo mano šeima ir jos giliai nusėdo mano širdyje. O dizainerės darbas buvo vienas iš svajonių dar nuo vaikystės, kuomet kūriau ir siuvau drabužius lėlėms, barbėms, o vėliau ir pačiai sau: iš laikraščių, šiukšlių maišų, medžių šakų, senų paklodžių. Dėkoju Dievui už savo mamą, kuri beje ir išmokė mane siūti, nes pati lig šiol siuva pagal individualius užsakymus. O dar labiau jai dėkoju, kad niekad nevaržė mano kūrybos. Kartais pati nesuprantu, kaip mama turėjo tiek daug kantrybės, kai šitiek daug batų, drabužių ir daiktų bekuriant buvo sugadinta! Pas mus namuose daiktas visada buvo tik daiktas, nors kuomet buvau maža, finansinė padėtis namie nebuvo pavydėtina. Tačiau net gyvenant nepritekliuje, kažkokiu stebuklingu būdu mama sugebėjo sukurti tokią atmosferą, kad visuomet jaučiuosi ypatinga ir viską turinti, tuo pačiu tai leido labiau vertinti kiekvieną smulkmeną.
Taigi, baigiau Ežerėlio vidurinę mokyklą. Dailės mokyklos niekuomet nelankiau. Kolekcijas kurti ir siūti pradėjau būdama 13 metų! Ruošiantis stojimams, viena "super" dailės mokytoja padėjusi ruoštis, nuolat kalė į galvą, kad neturiu talento ir niekada į dailės akademiją neįstosiu. Ačiū, dar kartą šeimai, kuri į stojamuosius egzaminus mane išspyrė ir sakė: "Bent jau pamėgink". Taip ir įstojau, aukštais balais į nemokamą vietą. Atrodė kaip Olimpo kalno viršūnė. Studijuoti nebuvo lengva, bet studijos labai užaugino. Daug keliavau, stažavausi užsienyje, teko 3 mėnesius padirbėti garsios dizainerės Agathos Rui de la Prada studijoje ir Mercedes Benz mados savaitėje Madride Ispanijoje, kur  ir prasidėjo pirmieji perversmai galvoje apie tai kaip aš noriu kurti ir "poziciuonuoti" mados pasaulyje. Nes pamačius viską iš arti, širdin atkeliavo nemažai nusivylimo, kad tokiam, rodos, gražiam pasaulyje tiek daug tuštybės, išnaudojimo, "lipimo per galvas" ir tiesiog nužmogėjimo.
How did you come up with "Lech Lecha Design" idea and what Lech Lecha means?
Everything happens for a reason. I finished Art School with a collection – my first little social project, experiment. DEKODUOTI (in Lithuanian language means to decode) – it was a collection dedicated to people of all shapes, sizes and ages.
My aim was to reveal the individual beauty and encourage people to love themselves without chasing stereotypes. After the graduation, I was looking for internship possibilities and dreaming about New York. I was searching on google for things like social fashion, a fashion which helps the world etc. I was searching for a little bit Utopian ideas, for a designer who is doing what I am doing now. I couldn't find anything appropriate. So I stayed in Lithuania. In autumn I started to work as a waitress and felt miserable! So many beautiful ideas and here I am, carrying trays and polishing cutlery.
One day I decided to do something good. I packed my old clothes and took them to charity Caritas. And that day the miracle happened. The miracle which led me to where I am now. In Caritas I received a publication about possibilities to help those in need and charity work. I sat in the church and cried while I was going through the publication and when suddenly deep in my heart I heard a call to VOLUNTEER. On the same day, I made a call and mumbled something like I am a designer who works as a waitress and I want to volunteer. It wasn't important where and how – I just WANTED IT. And this is how I ended up in a Betanija – a social center/canteen for homeless and poor people. I said YES in a wink, without even thinking. And that moment when I had to approach and be with those people was really challenging – it took a lot of courage and determination. And on that day the second miracle had happened.  I rediscovered myself, I found God and met people who inspired me to look at my life with new eyes.  Time spent there fulfilled my heart with such a warm feeling, I felt alive and needed. After the day we spent together talking, drinking tea with cookies and drawing, people were thanking me and inviting to come back again… I left with the feeling that I am in love again, that I am full of inspiration that is still there, in my heart. And this is how I ended up in Betanija. Once a week for the past three years I spend in Betanija, always with new projects. People from Betanija became my friends and I cannot imagine my life without them.
At the same time when I started volunteering in Caritas I met a nun. She quoted The Old Testament and there were words: LECH LECHA (in the Hebrew language it means "go for you"). A nun's teaching was about going out of your comfort zone, so you could discover a true yourself, your path and your mission. And when I realised – this is what I was looking for… It's me who has to create what I was trying to find on Google that rainy Autumn.
This is my mission to create fashion that would change the world. Even if it does sound Utopian. And this is how my journey began. I started with a small project "ATSIMERK" (in Lithuanian language means "Open Your Eyes"). During this project I organised photoshoots for Betanija's people: I change their clothes, did their hair and make-up, photographers were taking pictures. Later we celebrated the exhibition opening together with all of the people who were modeling during the photoshoot. It was amazing! So warm, so real, so sentimental. Under each portrait, there was a tiny interview. We asked "What is a beautiful person?" and they all were telling the same just in other words: beauty is not only the cover, it is something in comes from your heart… Later the pictures ended up in JCdecoux stands in Vilnius. My models – people from Betanija were so excited to see themselves in big city stands! It was such a pleasure to see their happiness, their sense of being needed despite their past or present poverty. This project inspired me to stop wasting time working as a waitress. It project proved me that fashion can be meaningful, if only you are looking for your path and do everything with love. I had enough courage to try, to risk and I started to work as a designer. It seemed like everything has fallen into place and I carried on thinking how I can create and together help people. And this is how LECH LECHA Design was born. I took part in social work accelerator program "SOCIFACTION", which helped to polish the idea. I was looking for a right name for a long time when I noticed a poster on a wall with LECH LECHA – it took my breath that the name was in front of me all this time!
---
Kaip kilo idėja įkurti "Lech Lecha Design" ir ką reiškia šis pavadinimas?
Viskas visada vyksta ne šiaip sau, viskas turi priežastį gyvenime. Dailės akademiją pabaigiau su kolekcija – mažu pirmu socialiniu projektu – eksperimentu. DEKODUOTI– tai buvo kolekcija skirta ne tipinių figūrų ir skirtingo amžiaus moterims, siekiant atskleisti individualų grožį ir paraginti žmones mylėti save nesivaikant stereotipų.
Po baigimo ieškojau kur toliau galėčiau stažuotis, labai norėjau išvykti į New York'ą, o Google paieškoje ieškojau: social fashion, a fashion which helps the world ir pan. Ieškojau visokių šiek tiek utopinių idėjų, norėjau rasti tą kūrėją, kuris kuria… Kuria tai, ką kuriu dabar pati. Neradau nieko tinkamo… Likau Lietuvoje, atėjo ruduo, įsidarbinau padavėja ir jaučiaus apgailėtinai. Tiek gražių svajonių ir va, nešioju padėklus ir blizginu įrankius.
Vieną dieną, nutariau padaryti gerą darbą. Sukroviau senus drabužius ir nunešiau juos paaukoti į Caritą. Tą dieną įvyko stebuklas, nuvedęs mane ten kur esu dabar. Už savo paaukotus drabužius gavau Carito Dienoraštį, leidinį apie tarnystes, pagalbą vargstantiems… Sėdėjau bažnyčioje skaičiau tą leidinį, verkiau ir širdyje išgirdau stiprų šauksmą: SAVANORIAUTI. Tą pačią dieną skambinau ir nerišliai mekenau, kad esu dizainerė dirbanti padavėja ir noriu savanoriauti, net nesvarbu kur ir kaip- NORIU. Taip ir atsidūriau benamystę ir skurdą patiriančių žmonių dienos centre – valgykloje (pilnas pav. socialinės pagalbos ir integracijos centras BETANIJA). Pasakiau TAIP nė nepagalvojus ir akimirka, kai reikėjo prieti ir būti kartu su tais žmonėmis, kainavo daug drąsos ir ryžto. Ir tą pirmą dieną savanorystėje įvyko antras stebuklas. Čia iš naujo suradau save, čia sutikau Dievą, čia sutikau žmones, kurie išmokė mane naujai pažiūrėti į gyvenimą. Laikas su jais pripildė mano širdį tokia didžiule meile, jaučiausi gyva ir reikalinga. Kai po dienos kartu, kuomet kartu gėrėm arbatą su sausainiais, bendravom, piešėm, atsisveikinant jie spaudė man rankas ir dėkojo, kviesdami sugrįžti…. Išėjau  tarsi įsimylėjusi ir kupina įkvėpimo, kuris tikriausiai alsuoja širdyje lig šiol. Taip, jau trys metai, kartą savaitėje praleidžiu Betanijoje, dabar  jau vis su naujais projektais. Žmonės ten jau tapo mano draugais, be kurių neįsivaizduoju savo gyvenimo.
Tuo pat metu, kai pradėjau savanoriauti  vienuose Carito mokymuose sutikau vienuolę sesę Benediktą, kuri citavo vietą iš senojo testamento apie Dievą ir Abraomą. Ten buvo žodžiai : "LECH LECHA" (iš hebrajų kalbos išvertus reiškia "išeik link savęs"). Vienuolės mokymas buvo apie kiekvieno žmogaus išėjimą iš savo šiuolaikiškai tariant komforto zonos, tam, kad iš tiesų atrasti  save, savo kelią ir savo pašaukimą. Lyg akmuo būtų nusiritęs nuo širdies: supratau, kad tai ko ieškau yra čia pat… Tai aš pati turiu kurti tai, ko ieškojau Google tą lietingą rudenį… Turiu imtis šių darbų, mados, kuri keistų pasaulį… Kad ir kaip tai utopiškai skamba.
Ir tada mano kelionė prasidėjo. Pirmiausia mažas projektas "ATSIMERK", kuomet Betanijos  žmonėms organizavau mados fotosesijas, perrengdavau juos, sušukuodavau, padažydavau, prisijungę fotografai fotografavo. Vėliau surengėm parodos atidarymo šventę, kur dalyvavo ir visi modeliais tapę žmonės. Buvo nuostabu, šilta, tikra ir jautru. Po kiekvienu portretu buvo ir mažas interviu, klausiantis kiekvieno jų "Kas yra gražus žmogus?". Ir visi jie kalbėjo tą patį kitais žodžiais: grožis ne tik viršelis, tai kažkas kas eina iš širdies… Vėliau šios nuotraukos atsidūrė ir JCdecoux stenduose Vilniuje. Mano modeliai – Betanijos lankytojai, krykštavo kaip vaikai pamatę save mieste didžiuliuose stenduose… Buvo gera matyti jų džiaugsmą, jausmą, kad jie yra vertingi ir reikalingi, nepaisant jų praeities ar dabarties skurdo. Šis ATSIMERK projektas įkvėpė mane pačią nustoti švaistyti laiką padavėjos darbe. Šiuo projektu pamačiau, kad įmanoma ir madą paversti prasmingu reikalu, jei tik ieškai savo kelio ir jei tik įdedi meilę ir širdį į tai, ką kuri ir darai. Gavau drąsos bandyti, rizikuoti, ėmiausi dirbti kaip dizainerė. Atsirado net vieta dirbti, viskas tarsi ėmė tekėti sava vaga. O aš toliau sukau galvą, kaip čia kurti ir padėti tiems žmonėms. Taip ir gimė LECH LECHA Design. Dalyvavau socialinio verslo akseleravimo programoje SOCIFACTION, kur galutinai išsišlifavo ši idėja. Ilgai ieškojusi tinkamo pavadinimo, pamačiau plakatą ant kambario sienos LECH LECHA – net kvapą užgniaužė, kad mėnesiais ieškotas pavadinimas prieš nosį.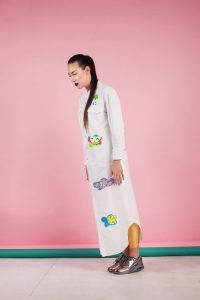 What is the most important in your creative work, what is the message you are trying to pass for the people?
The most important message I am trying to pass is that people would love themselves without looking around or reaching out for stereotypes. We are all beautiful in our own way, everyone is a special God's creation. When we learn to accept ourselves as we are, it is easier to accept others – different. I wish the message I am passing through my work will inspire people to be self-confident, to believe in others and get connected. We are so distant from each other, I wish that LECH LECHA projects would connect and build bridges between people hearts.
---
Kas jums pačiai svarbu jūsų kūryboje, kokią žinutę siekiate perduoti žmonėms?
Svarbiausia žinutė kurią norisi perduoti, kad žmonės vertintų ir mylėtų save, nesižvalgydami, nesiekdami stereotipų, nes kiekvienas mūsų esam gražus ir ypatingas Dievo kūrinys. Kuomet išmoksime priimti save, bus lengviau priimti ir kitą – kitokį. Norisi, kad  ta žinutė, kurią siunčiu savo kūryba, įkvėptų žmones pasitikėti savimi, patikėti kitu ir suartintų žmones, nes manau mes labai nutolę, susvetimėję. Norisi, kad LECH LECHA projektai kurtų bendrystę ir tiltus tarp žmonių širdžių.
What did you learn from working with socially fragile people?
As I already mentioned, the most important thing is acceptance. Unconditional love for another person, even if he is totally different, even if sometimes annoys you or talks nonsense, even if his past is awful and he has no future. You just have to eliminate all the criteria and look deeper… I am still learning… It is not easy, for sure. Also, I learned to appreciate what I have instead of crying about what's missing. These people taught me to appreciate my loved ones even more than before and especially TIME because it is given very limitedly.
---
Ko išmokote dirbdama su socialiai trapiais žmonėmis?
Kaip anksčiau minėjau, tai svarbiausia yra priėmimas. Besąlygiška meile kitam žmogui, net jei jis visai kitoks nei Tu, net jei ir kartais užknisa, ar kalba vėjus, net jei to žmogaus baisi praeitis ar nėra ateities, kažkaip atmesti kriterijus ir pažiūrėti giliau… Tai ko aš vis dar mokausi… Nes tikrai nėra lengva. O dar išmokau labiau vertinti tai ką turiu, užuot verkus ko trūksta. Šie žmonės išmokė labiau branginti artimus žmones ir LAIKĄ, kurio duoda ribotai.
Recently you have introduced "Lech Lecha Design" collection, photography exhibition, you are volunteering, creating costumes. How you do you manage to do it all?
I don't know how I manage. Sometimes I feel that I will just explode but when it gets quieter I feel like I'm not doing anything important in my life. It's like an addiction of trying to do the maximum. But if I would have to choose, I would choose this lifestyle again because it's extremely interesting to live.
---
Neseniai pristatėte "Lech Lecha Design" kolekciją, fotografijos parodą, savanoriaujate, kuriate kostiumus. Kaip viską suspėjate?
Kaip spėju nežinau. Kartais nuo visko tiesiog atrodo imsiu ir sprogsiu, bet kuomet tik pamažėja veiklos ima rodytis, kad nieko gero gyvenime neveikiu. Čia tokia priklausomybė tikriausiai ir perdėtas maksimalizmas, bet jei reikėtų rinktis aš vis tiek pasirinkčiau tokį gyvenimo būdą – nes gyventi yra beprotiškai įdomu.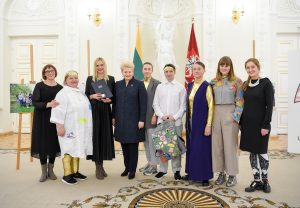 What inspires you?
The most of all I am inspired by people, communication, sometimes even silent observation. Another source of inspiration is nature, travels and MUSIC. Long journeys on a bus or train with my earphones in and watching countryside pass by always helps when I feel a lack of inspiration. To be honest, inspiration is a funny thing – sometimes it comes unexpectedly, but when you need it – it just disappears leaving you in a creativity desert and agony. To get inspired sometimes is important just to relax and do something fun and random.
---
Kas jus įkvepia?
Labiausia mane įkvėpia žmonės, bendravimas, o kartais tiesiog nebylus jų stebėjimas. Žinoma kitas įkvėpimo šaltinis, tai gamta, kelionės ir MUZIKA. Kai trūksta įkvėpimo visada padeda ilgos kelionės autobusu ar traukiniu su ausinuku ausyse stebint bėgančius laukus ir miškus. O iš esmės, tai įkvėpimas toks slidus reikalas, jis kartais ateina kai visai nesitiki, o kai reikia kažkur išgaruoja ir tada tenka išgyventi kūrybinės dykumos agonijas. Įkvėpimui ateiti svarbu kartais tiesiog atsipalaiduoti ir nuveikti kažką smagaus ir visai ne į temą.
What is the most exciting about your creative work?
Being with people and feeling, that through my work I can help, inspire and encourage. I like dynamic, energy and the sensation that everything what you are doing is real and sincere, that everything that comes out from the heart reaches other hearts.
---
Kas jūsų veikloje labiausiai džiugina?
Buvimas su žmonėmis ir jausmas, kad savo darbais galiu kažkam padėti, kažką įkvėpti, kitą padrąsinti. Patinka dinamika, energija ir jausmas, kad tai ką kuri ir darai yra tikra ir nuoširdu. Kad tai kas eina iš širdies pasiekia kitas širdis.
What are your creative dreams and plans?
I wish that LECH LECHA would grow, integrating more and more creative people. But even more, I wish that the number of people taking part in our projects would grow. Number of people for who creative workshops and being together is an opportunity to grow and to heal. I wish that one day we would reach the point where we could not only help through the therapy and integration but offer new employment opportunities for those who are starting their life again.  Also, I wish that me, my thoughts, my heart and my attitude wouldn't change. Of course, I want to grow and change through the improvement, but I desire and constantly remind myself to stay down to earth. Even if the Queen of England would like to get our dress, or we would get fame in Hollywood, I remind myself that it is important to stay simple, sincere and love to other people wouldn't disappear. It's sad when fame ruins people so I wish that fame would go along without ruining us.
---
Kokių turite kūrybinių svajonių, planų?
Norėčiau, kad LECH LECHA augtų, į kolektyvą įsijungtų vis daugiau kūrybingų žmonių, o dar labiau norisi, kad plėstųsi projektuose dalyvaujančių žmonių skaičius. Žmonių, kuriems kūrybinės dirbtuvės ir buvimas kartu yra auginantis ir gydantis. Svajoju, kad viena dieną viskas užaugtų taip, jog galėtume ne tik terapiškai ir intergracija bei užimtumu padėti, bet ir steigti minkštas naujas darbo vietas iš naujo ant kojų stojantiems. Taip pat, svajoju ir noriu, kad aš pati, mano mintys, širdis, požiūris nesikeistų. Žinoma norisi, augti, tobulėti ir tobulėjant keistis, bet trokštu ir nuolat sau primenu, kad net jei pati Anglijos karalienė mūsų suknelės norėtų, ar Holivude nuskambėtume, kad neišpuiktų širdis ir tas paprastumas ir nuoširdumas nuolat liktų, kaip ir meilė žmonėms. Liūdna kai sėkmė žmones sugadina, norėčiau, kad sėkmė mus lydėtų, bet negadintų.
You have mentioned, that with your work you are trying to draw attention to the excessive consumption and encourage to reduce it. What could you advise for La Pepa Blog readers – how to look stylish while limiting their ecological footprint?
On those days when you have a full wardrobe but nothing to wear and wish to hit a shop for tonnes of new clothes but you still aren't happy, I would advise adorning your heart: maybe you are longing for some rest, maybe a sincere chat, maybe a hug. Even if I am a fashion designer, I believe that first of all we had to adorn our inside. When you feel good, you look good in any old clothes.
Frankly, I believe we should give a chance to second-hand shops more often instead of grabbing cheap fast fashion items. I offer to start organising swaps with your friends. It is important to understand that there is no need to spend a lot of money in order to look stylish. A Style is something more delicate. Also, it is important to understand what fits you and what clothes and accessories you personally like. When you feel good there is no such a big need to follow new trends, you follow your heart instead.  It may seem like a strange advice but often we forget these things, especially in the fashion industry. While I have a chance I would like to remind people of that! Best wishes!
---
Esate minėjusi, jog savo kūryba siekiate atkreipti dėmesį į besaikį vartojimą ir skatinate jį mažinti. Ką patartumėte La Pepa Blog skaitytojoms – kaip atrodyti stilingai nepaliekant didelio ekologinio pėdsako?
Patarčiau dienomis, kai spinta pilna, o nėra ką rengtis ir žūt būt ne į temą norisi pirktis kalnus drabužių, bet vis tiek jaučiatės kažkaip ne taip, visų pirma papuošti širdį: gal trūksta poilsio, gal nuoširdaus pokalbio, gal apkabinimo. Nors esu mados dizainerė, vis dėlto manau, kad visų pirma reikia papuošti vidų – kai jaučiamės gerai, tai ir su kokiu nunešiotu škudliu gerai atrodai! O iš tiesų, tai manau, vertėtų dažniau apsilankyti dėvėtų drabužių parduotuvėje, užuot šluojant greitosios ir pigiosios mados lentynas. Siūlau pradėti organizuoti drabužių mainus draugų tarpe. Reikia suprasti, kad stilingai atrodom nepriklausomai kiek pinigų išleidom – stilius kur kas subtilesnis dalykas. Tuo pačiu svarbu suprasti kas tinka ir patinka mums, su kokiais drabužiais ir aksesuarais jaučiamės gerai. Su gera savijauta nebereikės tiek daug sekti naujų drabužių parduotuvėse tendencijų, bet pasikliauti savo širdimi. Toks gal keistas patarimas, bet dažnai, ypatingai mados pasaulyje, tokius dalykus pamirštama, tad turint progą norėjau priminti! Linkėjimai!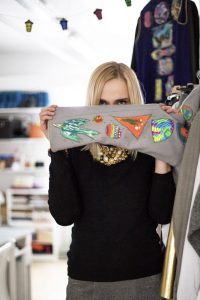 ---

For more information about repurposed and meaningful fashion please visit Lech Lecha Design. Also, check Youtube channel for some interesting videos about Lech Lecha Design creative work – I believe it will inspire you to RETHINK your shopping habits and Style concept.
---
Thank you for the Eco Chat, Janina!
Photo Courtesy | Nerijus Kuzmickas | Robertas Dačkus | Aurelija Lekytė | Simona Kuzmickaitė | Eglė Jasiukaitytė |