Today on Eco Chat – LeaF founder, creative and full of charm Giedre. She is creating new handbags from old and unwanted jackets, coats and other clothes. LeaF creations are not only very stylish but eco-friendly too because they are made from upcycled clothes that otherwise would end up in a landfill.  Give your old coat for this LeaF muse and she will turn it into a fashionable new handbag, clutch or a backpack!
Meet Giedre and her LeaF story.
---
Šiandien Eco Chat rubrikoje LeaF prekinio ženklo įkūrėja, kūrybinga ir žavi asmenybė – Giedrė. Iš senų, nebenešiojamų švarkų, paltų, striukų ir kitų drabužių, Giedrė sukuria naujas rankines. Jos rankose gimę kūriniai yra ne tik stilingi bet ir draugiški aplinkai, kadangi suteikia antrą šansą drabužiui, kuris kitaip būtų atsidūręs sąvartyne. Duokite šiai LeaF mūzai seną paltą ir ji jį parvers nuostabia rankine, delnine ar kuprine!
Susipažinkite su Giedre ir jos LeaF istorija.
"LeaF means Vitality which we are trying to retain for as long as possible"
Tell about yourself.
Although I finished art gymnasium, after the graduation I have chosen to study finances. During my studies I started to work as a finance specialist in one financial institution, however I always felt a hunger for a creative work.  I was making "LeaF" hanbags in the evenings, after work. I had to take various sewing classes, to watch a lot of video lessons until I manage to make something that looks like a handbag. Sometimes I got into sewing so much, that forgot even to eat. I would sew until 1 am and had to get up early in the morning to get to work. When I had to make strict boundaries – time to work and time for a life pleasures. Now I manage to find a balance. I have enough time to do everyhting I need and feel a pleasure because happiness is a process.
---
Papasakokite apie save
Nors baigiau dailės gimnaziją, tačiau bakalauro studijas pasirinkau finansų srityje. Studijų metais įsidarbinau finansų įstaigoje ir dirbau pagal specialybę, tačiau alkis kūrybai išliko. "LeaF" rankines siūdavau vakarais – po darbo. Teko mokytis įvairiuose siuvimo kursuose, peržiūrėti daugybę video pamokų, kol gimė į rankinę panašus daiktas. Kartais taip įsijausdavau, kad pamiršdavau net pavalgyti ir atsikvošėdavau, kad jau 1 valanda nakties, o kitą rytą anksti keltis į darbą. Tuomet teko save suimti į rankas ir griežtai apsibrėžti ribas, kada reikia dirbti, o kada mėgautis kitais gyvenimo malonumas. Šiuo metu yra pavykę susidėlioti dienotvarkę taip, kad spėčiau viską nudirbti ir jausti malonumą, nes laimė – tai procesas.
Tell us LeaF story. How 
I love unique items. One day, when after a walk in a shopping centre I was unable to find a handbag I like, I decided to make one. I found a company which sells sewing machines and bought one. People who knew me thought I'm crazy, they were telling me "You don't even know how to sew. But I was determined to do it.
---
Kokia LeaF atsiradimo istorija?
Aš pati labai mėgstu išskirtinius daiktus. Vieną dieną po pasivaikščiojimo prekybos centre ir bergždžių rankinės paieškų, nusprendžiau pati susikurti širdžiai mielą rankinę. Susiradau siuvimo mašinas pardavinėjančią įmonę ir įsigijau siuvimo mašiną. Mano pažįstami žmonės sukiojo pirštą prie smilkinio, sakydami "Giedre, juk tu nemoki siūti". Aš užsispyriau ir dariau savo.
Why "LeaF" and what does it means?
My intention was to reflect minimalism not only in my creations but in my brand too. Leaf means Vitality which we are trying to retain for as long as possible.
---
Kodėl "LeaF" ir ką tai reiškia?
Siekiau, kad minimalizmas atsispindėtų ne tik mano darbuose, bet ir prekės ženkle. LeaF – anglų kalboje reškia lapą t.y. gyvybę, kurią ir siekiame kuo ilgiau išsaugoti.
What message are you trying to pass for people with your creations?
Often people don't expect that it is possible to create such beautiful and stylish things from unwanted clothes. Every LeaF product is made with enthusiasm because the final result is always different and we are always looking forward to seeing it. All LeaF creations are different and unique. We are trying to spread the message that upcycled items could be very beautiful and made with love.
---
Kokią žinutę siekiate perteikti kitiems savo veikla?
Dažniausiai žmonės nesitiki, kad iš nebenešiojamų drabužių galima pagaminti gražius ir stilingus daiktus. Kiekvienas LeaF gaminys yra gaminamas su entuziazmu, nes rezultatas visuomet būna kitoks ir jo mes labai laukiame t.y. visi LeaF gaminiai yra skirtingi ir unikalūs. Siekiame skleisti žinią, kad ir perdirbti daiktai gali būti gražūs ir pagaminti su meile.
Where from do you get material for your creations?
Our material – unwanted clothes. The majority of people wants that we would make something for them from their clothes, but some of them simply donate their old leather clothes. One lady sent her coat even from the Ireland!
---
Iš kur gaunate žaliavos savo gaminiams?
Mūsų žaliava – žmonių nebenešiojami drabužiai. Didžioji dalis nori, kad persiūtume iš jų nebenešiojamų drabužių, tačiau pasitaiko ir tokių, kurie tiesiog atiduoda savo nebenešiojamus odinius drabužius. Viena lietuvė net iš Airijos yra atsiuntusi savo paltą.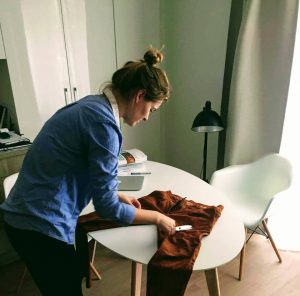 Which LeaF product is your favourite?
I wear them all, so I cannot choose one. I have different items for different occasions.
---
Kuris LeaF gaminys jums pats mieliausias?
Aš pati nešioju juos visus, tai net negalėčiau kažkurio vieno išskirti. Skirtingoms progoms turiu po daiktą.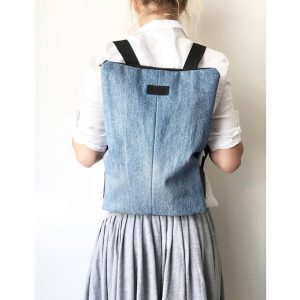 What do you do when you're not working?
I try to spend a lot of time surrounded by people I feel good to be with. I adore walks in the forest. If I am unable to escape the city I am trying to learn something new.
What accomplishment are you most proud of?
Family.
---
Ką veikiate kai nedirbate?
Stengiuosi daugiau laiko praleisti lauke su žmonėmis, kurių apsuptyje jaučiuosi gerai. Labai mėgstu pasivaikščiojimus miške. Kuomet nepavyksta ištrūkti iš miesto, tuomet mokausi ir stengiuosi sužinoti kažką naujo.
Kokiu savo pasiekimu labiausiai didžiuojatės?
Šeima.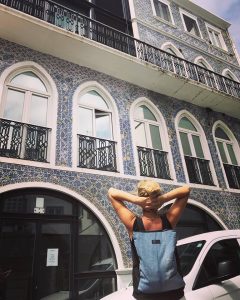 Which book would you recommend to read for everyone/movie to watch?
Minimalism: a documentary about the important things.
If you had to describe yourself in five words, what would they be?
Curious, friendly, cheerful, ambitious optimist.
---
Kokią knygą paskaityti/filmą pažiūrėti rekomenduotumėte visiems?
Minimalism: a documentary about the important things.
Jeigu reikėtų apibūdinti save 5 žodžiais, kokie jie būtų?
Žingeidi, draugiška, linksma, užsispyrus optimistė.
What would you most like to learn and why?
Maybe it's not directly related to "LeaF", but I would like to learn run long distances. I believe it requires a lot of stamina and this is personal characteristic I want to strengthen the most.
What are your future plans related to LeaF?
I am admiring "Freitag" brand. I wish LeaF brand to grow to that level.
---
Ko labiausiai norėtumėte išmokti ir kodėl?
Tai galbūt ne visai susiję su "LeaF", tačiau labai norėčiau išmokti bėgioti ilgus nuotolius. Matyt, manau, kad tam reikia labai daug ištvermės ir būtent šią savybę norėčiau stiprinti.
Kokie jūsų ateities planai, susiję su LeaF veikla?
Mane žavi prekės ženklas "Freitag". Norėčiau "LeaF" užauginti iki tokio lygio prekės ženklo.
Can you share some creative eco-solutions with La Pepa Blog readers?
If you think that there is nothing possible to make from your old clothes before you throw it away – talk with us. We promise you a creative and eco-friendly solution.
What would you wish for La Pepa Blog readers?
Never be afraid to start: to create and to sustain.
---
Gal galite pasidalinti kūrybiškais-ekologiškais patarimais su La Pepa Blog skaitytojais?
Jeigu galvojate, kad iš jūsų nebenešiojamų rūbų tikrai negalima nieko padaryti, tai prieš išmesdami pasitarkite su mumis. Pažadame, kad bus kūrybiškas ir ekologiškas sprendimas.
Ko palinkėtumėte La Pepa Blog skaitytojams?
Nebijoti pradėti: vieniems kurti, o kitiems tausoti.
---
LeaF makes a perfect addition to your sustainable wardrobe because it is all about giving a second chance for your old clothes. Check out your wardrobe, are there any old clothes you are not wearing but they bring up a lot of warm memories? Give them to LeaF to be upcycled into a new, wearable item. lt can be not only a present for yourself but a perfect gift for your eco-conscious loved ones too!
For more information or to buy please visit LeaF.
---
Thank you for the Eco Chat, Giedre!