Today on Eco Chat – Eco Luxury. Fashion designer Matilda Janosi combines recycled materials with high-quality luxury materials to create a unique "Eco Luxury" style for her TildArt fashion label. Matilda was born and grew up in Transylvania where recycling is a way of life.  It is this ethos, combined with her talent, that has driven her to create unique fashion products using recycled materials. Today she is sharing her story with us.
---
Šiandien Eco Chat rubrikoje – prabangi ekologija, Eco Luxury. Mados dizainerė Matilda Janosi, derina perdirbtas medžiagas su prabangiomis, aukštos kokybės medžiagomis tam, kad sukurtų ekologiškos prabangos stilių savo mados ženklui "TildArt". Matilda gimė ir užaugo Transilvanijoje, kur perdirbimas buvo natūralus gyvenimo būdas. Tai jos moraliniai įsitikinimai susijungę su talentu įtakojo meilę unikalių mados gaminių kūrimui iš perdirbtų medžiagų. Šiandien ji dalinasi savo istorija su mumis.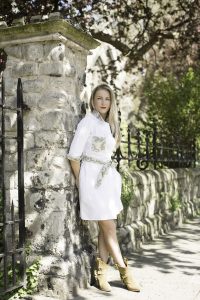 "I love when the fabric has a history"
Tell us about yourself.
My name is Matilda, I call myself an "Eco Luxury" fashion designer and I am based in London. My fashion label is TildArt. My collections are created by using a combination of recycled and high quality, carefully sourced fabrics, bringing eco fashion to a luxurious level! I had the opportunity to introduce my creations at international events during the last few years including the USA, Canada, Australia and Europe. My mission is to spread the idea of Eco Luxury all around the world.
When did you become interested in a Sustainable Fashion and what do you see as the biggest issues with fast fashion?
I was born and grew up in Transylvania where recycling is a part of everyday life. All my childhood I was wearing worn clothes which were passed down from generation to generation. When I was a teenager I started to recycle old clothes from my mum or grandma and made some unique pieces from them. My first ever design was a corset made from my mother's velour over-the-knee boots and laces.
In my opinion, fast fashion is one of the major issues responsible for the tons of clothes which are produced in very bad conditions, including low-cost labour. These are made of very cheap materials (dyed with chemicals) and sold for a very low price so people buy them in bulk and throw them out after wearing it once or twice. We need to realise that "cheap clothes" come at a huge human, social and environmental price and do a lot of harm to us and nature. I believe we can bring positive changes in the fashion industry if we don't just talk about the issue but all of us take responsibility and do something about it – making our and our children's and grandchildren's future a lot better.
---
Papasakokite apie save
Mano vardas yra Matilda, gyvenu Londone ir save vadinu "Eco Luxury" mados dizainere. Mano sukurtas mados ženklas pavadinimu TildArt. Mano kolekcijos kuriamos naudojant kombinacijas iš perdirbtų, antrinio dizaino ir aukštos kokybės, atsakingai išgautų medžiagų. Taip eko madai suteikiamas prabangumas. Per paskutinius kelis metus, turėjau galimybę savo darbus pristatyti tarptautiniuose renginiuose JAV, Kanadoje, Autralijoje ir Europoje. Mano misija yra skleisti Eco Luxury idėją po visą pasaulį.
Kada susidomėjote Tvariąja Mada ir kokios, jūsų nuomone, didžiausios problemos sukeliamos greitosios mados?
Aš gimiau ir užaugau Transilvanijoje, kur perdirbimas yra tiesiog kasdieninio gyvenimo dalis. Visą savo vaikystę, aš nešiojau dėvėtus drabužius, kurie buvo perduodami iš kartos į kartą. Kai buvau paauglė, pradėjau perdirbti senus mamos ar močiutės drabužius ir sukūriau keletą gana unikalių dalykų. Mano vienas pirmųjų dizainų buvo korsetas, kurį padariau iš mamos ilgaaulių veliūrinių batų ir nėrinių.
Mano nuomone, greitoji mada yra atsakinga už problemas, kurias sukelia tonos drabužių, pagamintų labai blogomis sąlygomis ir žinoma, prastai apmokama darbo jėga. Tokie drabužiai yra gaminami iš labai pigių medžiagų (dažytų chemikalais) ir parduodami labai žemomis kainomis, todėl žmonės perka dideliais kiekiais ir meta lauk padėvėję keletą kartų.  Mes turime suprasti, kad "pigūs drabužiai" turi didelę žmogišką, socialinę ir ekologinę kainą, jie kenkia ir mums, ir mūsų aplinkai. Tikiu, kad į mados industriją galime įnešti pozityvių pokyčių, jeigu ne tik kalbėsime apie problemas, bet ir visi prisiimsime atsakomybę ir imsimės veiksmų – tam, kad užtikrinume savo vaikams ir anūkams geresnę ateitį.
Photo Credits | Anna Kirschner
Tell us a "TildArt" story and some of your achievements.
I think the best example is when I had a "live kick-start" on London streets! Due to my fashion shows in Hungary, the organisers of the Eco Fashion Week Vancouver were so impressed by my works that they invited me to show my collection. This was in 2012 and I just moved to London and was working as a rickshaw driver. This was my first large fashion event and I was excited about it but I realised I only had a few weeks to prepare financially and gather the amount I needed to cover my costs for this fantastic opportunity. While driving my passengers around London, I started mentioning my opportunity in Canada and after a while, it turned out a sort of "charity crowdfunding" due to their generosity. Almost all my passengers gave me extra tips to make my dream come true. It was unbelievable! In a few weeks' time, I came up with the amount I needed to participate in this wonderful fashion event, showing my latest collection! So, clearly, I owe my passengers a lot. I started out as using the rickshaw centre as my workplace for TildArt. I found the material of bicycle inner tubes exciting and inspiring and I asked my colleagues to give me their used tubes for one of my previous collections. I even dug deep into the waste bin in the rickshaw centre to get them!
What are your favourite materials to work with and why?
I love all materials which have a history behind them – it is my biggest inspiration. TildArt's motto is "I love when the fabric has a history". In the past, my collections were made from recycled bicycle inner tubes, movie strips, vinyl records or even moss. I feel I give them a second life. Recently, I have been concentrating on working with a combination of organic and 100% degradable recycled fabrics, using natural dye technics.
---
Pasidalinkite "TildArt" istorija ir pasiekimais.
Turbūt vienas geriausių pavyzdžių – "live kick-start" Londono gatvėse! Mano mados pasirodymai Vengrijoje taip sužavėjo Eco Fashion Week Vancouver organizatorius, kad jie pakvietė man ten pademonstruoti kolekciją. Tai buvo 2012 metai, aš buvau tik atsikrausčiusi į Londoną ir dirbau rikšos vairuotoja. Tai man buvo pirmas didelis mados įvykis ir aš buvau beprotiškai laiminga, tačiau suvokiau, kad turiu vos kelias savaites pasiruošti finansiškai ir surinkti reikiamą sumą, kuri padengtų šios fantastiškos galimybės kaštus.  Kol vežiojau savo klientus po Londoną, pradėjau jiems pasakoti apie galimybę Kanadoje ir po kurio laiko, tai pavirto savotišku labdarišku rėmimu, nes beveik visi mano keleiviai palikdavo labai dosnius arbatpinigius tam, kad galėčiau išpildyti savo svajonę. Tai buvo tiesiog neįtikėtina! Per kelias savaites, surinkau reikiamą sumą, kad galėčiau dalyvauti tame nuostabiame mados renginyje ir pademonstruoti savo paskutinę kolekciją. Už tai, žinoma, esu dėkinga savo dosniems keleiviams. TildArt veiklą pradėjau būtent rikšų centre. Paprašiau kolegų, kad man atiduotų senas dviračių padangų kameras ir netgi rausiausi rikšų centro šiukšlių dėžėse, kad išsitraukčiau reikiamas kameras!
Su kokiomis medžiagomis jums labiausiai patinka dirbti ir kodėl?
Dievinu visas medžiagas, turinčias savo istoriją – tai mano didžiausias įkvėpimas. TildArt moto yra "Myliu medžiagas, turinčias istoriją". Seniau, mano kolekcijos buvo kuriamos iš dviračių kamerų, filmų juostelių, vinilinių plokštelių ir netgi samanų. Jaučiuosi, lyg suteikčiau jiems antrą gyvenimą. Paskutiniu metu, koncentruojuosi į darbą derindama ekologiškas ir perdirbtas medžiagas, naudoju natūralius dažymo metodus.
Photo Credits | eXposed
Photo Credits | Anna Kirschner
I know you are working on a very intriguing new collection, inspired by Lady Diana. Can you tell us more?
Certainly. I am extremely excited and happy for my new collection which is made from recycled old curtains from the Spencer House (next to Kensington Palace) where Lady Di lived. The curtains were sourced by The Good Rubbish Company (@thegoodrubbishcompany) and as they know my work, I managed to put my hands on them. This collection is tailor made in London with a combination of organic fabrics (coloured with natural dye techniques) and a touch of British History – inspired by Lady Diana's wardrobe. I would like this collection to cover all seasons with its unique and limited edition pieces as I don't wish to race with the fast fashion brands. I have already created some pieces but during the summer I will be working on the natural dye techniques in Transylvania on my parents' farm. I am absolutely thrilled!
What is the most exciting thing about your creative work and the most difficult?
It simply fuels me to create my own ideas and make them come to life. Difficulties – this buy-buy-buy mentality that people have. Most of the customers do not think about sustainability and the damage of mass-production causes. Therefore, the fashion market is filled with cheap, quickly made garments to satisfy the fast-pace of people's needs of buying. It is hard to enter the race of cheap goods as most people only see the price and do not consider anything else. People need to change their ways of thinking and take responsibility for their actions.
---
Žinau, kad dirbate su labai intriguojančia nauja kolekcija, įkvėpa Ledi Dianos. Ar galite papasakoti daugiau?
Žinoma. Esu neapsakomai laiminga dėl savo naujos kolekcijos. Jis bus gaminama iš pernaudotų senų užuolaidų, kabėjusių Spencer House (šalia Kensington Palace), kur Ledi Diana gyveno. Užuolaidas gavau per kompaniją The Good Rubish Company (@thegoodrubishcompany), kadangi jie žinojo mano darbus, gavau šansą dirbti su šiomis užuolaidomis. Kolekcija yra siuvama Londone pagal užsakymą, derinant ekologiškas medžiagas (dažytas natūraliais dažais) ir britišką istoriją – kolekcija įkvėpta Ledi Dianos drabužinės. Norėčiau, kad ši unikalių ir limituoto leidimo drabužių kolekcija būtų tinkama visiems sezonams, nenoriu rungtyniauti su greitąja mada. Jau sukūriau keletą dalykų, tačiau vasaros metu dirbsiu prie natūralių dažymo technikų Transilvanijoje, savo tėvų fermoje. Labai nekantrauju!
Kas jūsų kūrybinėje veikloje labiausiai džiugina ir kas sudėtingiausia?
Mane tiesiog veža mano kūrybinių idėjų įgyvendinimas. Didžiausias sunkumas, yra žmonių mentalitetas pirkti-pirkti-pirkti. Dauguma vartotojų negalvoja apie tvarumą ir apie tai, kokią žalą daro masinės produkcijos vartojimas. Būtent dėl to, mados pasiūla ir perpildyta pigiais, greitai pagamintais drabužiais, kad patenkintų žmonių greito pirkimo norą. Sunku varžytis su pigiomis prekėmis, kadangi žmonės mato kainą ir daugiau apie nieką negalvoja. Žmonės turi pakeisti mąstymo būdą ir prisiimti atsakomybę už savo veiksmus.
Photo Credits | KrisJ Photography 
What's your goal for yourself and for TildArt?
My goal is to spread the word about the eco-luxury approach. I would like to be part of eco-warrior campaigns which can help to bring big changes in the fashion industry. TildArt's business goal is to represent a new wave of luxurious fashion, taking into consideration sustainability while producing wonderful and interesting pieces that people will love to buy and wear.
How "eco" are you in your daily life?
My biggest challenge right now is to try and live "plastic free." In order to achieve this, I am…..
~ buying most food from open food markets
~ ordering milk from a milkman who brings the milk in reusable glass bottles (like in the older days, so classy)
~ set up a water filtering system at home – no need to buy any more drinking water in plastic bottles
~ using a portable coffee cup – the minimum "must have" for any coffee lover
I believe that in a few years' time a lot of the food on our shelves will be packed in a more eco-friendly way (much less plastic). I am very positive about the changes going this direction already. I used to love to collect items left next to bins or from street clearances as I tried to give a new chance for life to them. For example, almost all of the furniture in my studio was found on the streets of London in very good condition. Right now, we are living in a small flat and I had to terminate this habit due to the lack of space but if I know somebody who needs something, I am still carrying home a table or chair for them. There is far too much wasting going on in Central London.
---
Kokį tikslą esate išsikėlusi sau ir kokį TildArt?
Mano tikslas yra skleisti žodį apie ekologišką prabangą. Norėčiau būti dalimi ekologiškų kompanijų, kurios atneša pokyčius į mados industriją. TildArt verslo tikslas yra representuoti naujovišką, ekologiškos mados bangą, kuri kurdama įdomius drabužius, kuriuos žmonis su meile pirktų ir dėvėtų, skiria dėmesį tvarumui.
Kiek "žaliukė" esate realiame gyvenime?
Šiuo metu, didžiausias mano iššūkis yra gyventi "plastic-free". To siekdama aš:
~ didžausią dalį maisto perku turguose
~ užsakinėju pieną į namus, kurį atveža daugkartinio naudojimo buteliuose (kaip senais laikais, tikra klasika)
~ namuose įsirengiau vandens filtravimo sistemą, nereikia pirkti vandens plastikiniuose buteliuose
~ naudoju daugkartinio naudojimo kavos puodelius – tai mažiausia, ką gali padaryti kavos mylėtojas
Tikiuo, kad per ateinančius metus, daugelis maisto produktų parduotuvių lentynose bus supakuoti draugiškesniu aplinkai būdų (mažiau plastiko). Esu labai pozityviai nusiteikusi kalbant apie jau pokyčius šiuo klausimu. Seniau, aš paimdavau išmestus daiktus ir prikeldavau juos antram gyvenimui. Pavyzdžiui, beveik visi baldai turėti studio bute buvo surinkti geros kokybės iš Londono gatvių. Šiuo metu, gyvenu labai mažame bute ir turėjau sustabdyti šį pomėgį dėl vietos trūkumo. Tačiau jeigu žinau, kad kažkam kažko reikia, vistiek tempiu jiems namo stalą ar kėdę. Centriniame Londono pernelyg daug išsvaistoma.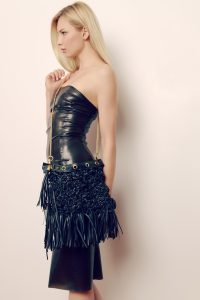 Photo Credits | Anna Kirschner
How, in your opinion, can we slow fashion down?
I still think the best tool for this is media/social media – get the word out! And first act in your home, change your habits of purchasing goods and realise that we need to help nature so it can help us. Think more, buy less.
What book you would recommend reading/film watching for everyone.
In May, TildArt will be appearing in one of the chapters in an exciting coffee table book. The title is "Trashion Forward – The Emergence of Sustainable Luxury". The author is Kenny Jackson-Forrest who introduced me to a few eco-luxury fashion labels and asked TildArt to appear in the book as well. I am very proud of it! So I would definitely recommend to check it out. As an inspiration, I like watching portrait movies about people whose life stories had a positive influence on our future. One of my favourites is Charlie Chaplin and of course, Lady Di
---
Kaip, jūsų nuomone, galėtume pristabdyti greitąją madą?
Ko gero, geriausia būdas yra žiniasklaida ir socialiniai tinklai – skleiskime žodį! Pirmiausia, turime keistis patys, savo namuose, pakeisti pirkimo įpročius ir suprasti, kad mes turime padėti gamtai tam, kad ii galėtų padėti mums. Daugiau galvokime, mažiau pirkime.
Kokią knygą paskaityti/filmą pažiūrėti rekomenduotumėte kiekvienam?
Gegužę, TildArt pasirodys viename iš puikios knygos skyrių. Knyga vadinasi "Trashion Forward – The Emergence of Sustainable Luxury". Knygos autorė Kenny Jackson-Forrest mane pristatė keliems eco luxury mados ženklams ir pakvietė būti paminėtai jos knygoje. Labai tuo didžiuojuosi! Tad žinoma, rekomenduočiau paskaityti šią knygą. Na, o įkvėpimui, man patinka žiūrėti filmus apie žmonių, įkvėpusių pokyčius, gyvenimo istorijas. Vieni mano mėgstamiausių yra apie Čarlį Čapliną ir žinoma, Ledi Dianą.
Photo Credits | Alfonso Arnold
What is the most important thing you would teach your kids?
To care about all living things including the environment.
What would you wish to La Pepa Blog readers?
Think before you shop!
---
Koks svarbiausias dalykas, kurio mokytumėte savo vaikus?
Rūpintis visais gyvais organizmais, įskaitant pačią aplinką.
Ko palinkėtumėte La Pepa tinklaraščio skaitytojams?
Prieš perkant – pagalvoti!
Photo Credits | KrisJ Photography 
---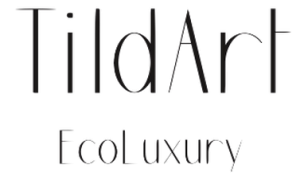 For more information please visit TildArt website.
---
Thank you, for the Eco Chat, Matilda!