Meya came to our lives like a little sunshine. My firstborn was a very demanding baby, while Meya seems more chilled and content. Or maybe I am? Because with a second baby you already know what to expect. I feel less stressed and more enjoying the moment. My journey to simple, earth-friendly lifestyle began (and still going) when my first daughter came to the world. After 7 years I learn to apply simplicity approach to most aspects of my life, so I kept my preparation for baby very simple too. You can read more about it here:
Preparing for Baby – Keeping it Minimal and Low Key
---
Mėja į mūsų gyvenimus atėjo kaip mažas saulės spinduliukas. Mano pirmagimė buvo labai daug dėmėsio reikalaujantis kūdikis, o Mėja atrodo daug ramesnė ir viskuo labiau patenkinta. O galbūt aš tokia esu? Juk su antruoju vaikeliu jaučiuosi daug stabiliau, žinanti ko tikėtis. O ir požiūris į daugelį dalykų paprastesnis, mažiau streso, daugiau mėgavimosi dabartimi. Prieš 7 metus gimus pirmai dukrytei panirau į ekologiją, atradau minimalizmą. Tai buvo tik kelio pradžia, kuriuo vis dar einu. Tačiau šiandien į daugelį dalykų žiūriu paprasčiau ir vaikelio gimimui ruošiausi daug neišlaidaudama, o ir kraitelis labai minimalus. Apie tai plačiau galite paskaityti mano įraše:
Preparing for Baby – Keeping it Minimal and Low Key
I think the timing for Meya to join our family couldn't have been more perfect. She was born at the beginning of a summer holiday, so we had plenty of time to soak in every moment and to bond as a family of four without any rush, busy early mornings or crazy school runs. My husband took 2 weeks of paternity leave and took care of our older daughter, home and me.
As it was a summer baby, we spend lots of time outside enjoying the sunshine, walks in nature and fresh air. Therefore I recovered quite quickly after delivering the baby. I guess they say "Nature is the best healer" for a reason.
---
Manau, kad Mėja gimė tobulu laiku. Tai buvo vasaros atostogų pradžia, todėl visi turėjome pakankamai laiko mėgautis buvimu drauge jau kaip keturių asmenų šeima ir sugerti į save kiekvieną akimirką be jokio skubėjimo, be ankstyvų rytų paskubomis lekiant į mokyklą ar darbus. Mano vyras pasiėmė dvi savaites tėvystės atostogų ir perėmė buities rūpesčius, rūpinosi vyresnėle ir manimi.
Kadangi Mėja yra vasaros kūdikis, mes visi daug laiko praleidome gamtoje, mėgavomės saule, pasivaikščiojimais gryname ore. Todėl gana greitai po gimdymo atgavau jėgas ir jaučiausi gerai. Ne veltui sakoma, kad gamta yra geriausias daktaras.
OUT AND ABOUT
We visited a few National Trust places (you can read my post about National Trust Membership here) / Aplankėme keletą National Trust vietų (apie National Trust narystę daugiau paskaityti galite čia)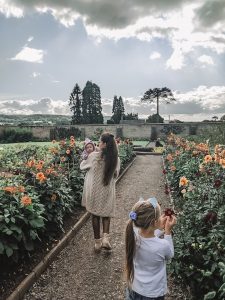 Visited the sea… / Aplankėme pajūrį…
…local rivers and parks / …bei vietines upes ir parkus
It was impossible to have a stroll in a pushchair with my first daughter without tears so it was a lovely surprise that my little one is actually enjoying it! As most of my baby items, I bought Venicci pushchair second hand and it looked as new! As you already understand, I'm not that kind of person that enjoys a stroll in a city. This pushchair proved to be comfy, soft and maneuvring for off-roads too. So I used (and still using) it a lot! I use a baby carrier too (especially on rainy days) but most often the pushchair and my back is very thankful for that.
---
Mano vyresnioji dukra vežimo labai nemėgo, negalėjom pasivažinėti be ašarų. Todėl buvo malonus siurprizas, kad mažylė noriai miega vežime! Kaip ir daugelį mažylės daiktų, vežimą pirkau dėvėtą, jis buvo idealios būklės. Turbūt jau supratote, kad aš nesu iš tų mamų, kurios mėgaujasi pasivažinėjimo miesto šaligatviais. Šis vežimas pasirodė patogus ir labai manevringas net ir netikėčiausiuose takeliuse. Todėl tai buvo (ir yra) beveik kasdien naudojamas daiktas. Naudojam ir nešyklę (ypač lietingomis dienomis), tačiau vežimą žymiai dažniau ir mano nugara už tai dėkinga.
Bonus – a holder for my reusable coffee cup / Bonusas – laikiklis mano daugkartiniam kavos puodeliui
Breastfeeding
With the days getting colder and daughter back to school, I spend most of my days I spent chilling on the sofa in front of the TV – breastfeeding and cuddling Meya. Even though I was confident in breastfeeding as it's my second child, I found it more challenging than with my first daughter and suffered from mastitis on a week two. However, after a few weeks, everything normalised. I used Lansinoh after each feed as I found it very effective the first time and didn't want to experiment this time. I bought a sample size on Facebook Marketplace and it was enough.
If you are planning to breastfeed (after all, its the most natural and the best thing for your baby and nature as no harmful chemicals, energy or transportation go into nourishing baby this way, no bottles or sterilizers required et), I suggest getting as much information as possible. Some mothers are lucky to go through it smoothly, some find it really challenging and says it's more difficult than actually delivering a baby. So don't assume it's easy, just because it's natural.
---
Rudenį dukrai sugrįžus į mokyklą ir šaltėjant dienoms, daugiausia dienas leidau sėdedama ant sovos prieš TV, maitindama ir glausdama Mėją. Nors apie žindymą viską puikiai žinojau, kadangi pirmagimę maitinau iki metų, maitinti Mėją sekėsi sunkiau ir antrąją savaitę kankinausi su mastitu. Tačiau po pirmų kelių savaičių viskas susitvarkė. Tiesiog apsišarvavau kantrybe ir nuolat tepiausi Lansinoh kremu – jis man buvo labai efektyvus su pirmagime, todėl neeksperimentavau. Man užteko sample size, kurį už pora svarų įsigijau FB Marketplace.
Jeigu planuojate kūdikį žindyti (visgi tai natūraliausias ir geriausias dalykas tiek kūdikiui, tiek aplinkai, kadangi toks maitinimas nereikalauja jokių chemikalų, logistikos ar energijos išteklių, buteliukų, sterilizatorių ir t.t.), rekomenduoju įgauti kuo daugiau žinių apie tai dar prieš gimstant kūdikiui. Nors kaip kurioms mamoms žindyti sekasi lengvai, deja, daugeliui tai tampa tikru iššūkiu ir dažnai mamos sako, jog pagimdyti kūdikį buvo lengviau, nei jį žindyti. Negalvokit, kad tai lengva vien dėl to, jog tai natūralus procesas. Man labai daug žinių ir pasitikėjimo savimi suteikė knyga  "Kūdikio žindymas. Nepakeičiamas kaip motinos meilė", kurią perskaičiau kai laukiausi pirmagimės ir manau, tai buvo startas į sėkmingą žindymo istoriją.
I am alright with the breastfeeding baby in public but I need some more privacy in busy places. Newborn babies need a feed every hour and many moms lock themselves at home for the first few months as it feels like you have to feed the baby non-stop and they don't know how to deal with breastfeeding in public. Usually, I would find a remote place but it's not always possible. So I got breastfeeding cover (a gift from my friend) and used it any time I felt there are too many eyes around me! It helped me to enjoy outdoors without any worries about breastfeeding baby. I know you can use any scarf but this one is so much comfortable as it stays open at the top so your baby gets enough fresh air.
---
Jaučiuosi gana ramiai maitindama dukrytę viešose vietose, tačiau vietose, kur labai daug žmonių man norisi privatumo. Naujagimiai išalksta labai greitai, tad dažnai maitinti juos tenka vos ne kas valandą. Dėl šios priežasties daug mamų pirmus mėnesios tiesiog užsidaro namuose. Nors maitinimui dažniausiai susirasdavau kokią nors nuošalesnę vietą, kartais tai neįmanoma. Tokiomis situacijomis naudojausi žindymo skraiste, kurią man padovanojo draugė. Jos pagalba jaučiausi drąsiai galinti vaikštinėti su dukryte kur norime ir kiek norime. Žinau, kad galima naudoti paparasčiausią skarą, tačiau ši skraistė žymiai patogesnė, nes viršus lieka atviras, kad kūdikis gautų pakankamai šviežio oro.
Clothes and Nursery
I didn't spend much money and mainly bought everything second hand. Up to 3 months, Meya had absolutely all her clothes second hand. The second-hand market today is on the rise, so it was really easy to find what I wanted and I had many options to choose from. I mainly use Facebook to buy and sell baby stuff. It can save a fortune and I don't want to contribute to the damage caused by fast fashion. Because Meya is a second baby, I knew how little babies need, I knew what I found unnecessary with my first baby, so I kept everything very minimal. I already told about it in details in my previous post:
Why Buying Second Hand for babies doesn't mean Second Best
---
Iki 3 mėnesių, visi iki vieno Mėjos drabužėlių buvo second hand. Šiuo metu Secon Hand rinka klesti ir viską tikrai buvo gana paprasta rasti, bei buvo iš ko rinktis. Pagrinde pirkti ir parduoti vaikučio drabužiams naudojuosi Facebook Marketplace. Taip ne tik sutaupau begales pinigų, bet ir neskatinu vartojimo, neprisidedu prie greitosios mados sukeliamų probemų. Kadangi tai antras vaikelis, jau žinojau, kiek ne daug jiems reikia ir kas nepasiteisino su pirmagime, todėl Mėjos kraitelis buvo gana minimalistiškas. Apie tai esu gana išsamiai papasakojusi anksteniame įraše:
Why Buying Second Hand for babies doesn't mean Second Best
Baby Blankets
Blankets are something that I really used a lot with my first daughter. They are not only perfect to cover and wrap up the baby but can be used as a protector then burping baby, an extra layer on a mattress or a mat. I really enjoy making baby blankets, it's like meditation therapy, so I made quite a few during pregnancy. When going out, I always had a lightweight and warm blanket with me. For the first month, our absolute favourite was muslin blanket. It's lightweight and perfect to protect baby from overheating while still keeping her snuggly. Meya slept much better when she was at least a bit covered or wrapped up in a blanket, probably she felt safe and cosy.
You can buy them at my Etsy shop.
---
Užklotėliai buvo vienas iš labai dažnai naudojamų daiktų su pirmagime. Juos naudojau ne tik kūdikio užklojimui ar vystymui, bet kaip ekstra sluoksnį saugantį nuo įvairių atpylimų tiek mane pačią, tiek vežimo čiužinį, lizdelį ir t.t. Dažnai užklotėlį naudojau ir kaip patiesaliuką. Aš labai mėgstu nerti užklotėlius, man tai tarsi savotiška terapija, todėl būdama nėščia pasiruošiau jų daug ir įvairių. Kur nors išeidama visada turėdavau vieną lengvą ploną ir kitą, šiltesnį užklotėlį. Tačiau pirmą mėnesį daugiausia naudojom lengvą, merlinės medžiagos užklotėlį nertais kraštais. Jis labai lengvas, todėl idealiai tiko šiltom vasaros dienom, kuomet reikėjo saugoti kūdikį nuo perkaitimo, bet norėjosi užkloti, kad suteikti jaukumo jausmą. Mėja užklota daug geriau miegojo, matyt jautėsi saugiau ir jaukiau.
Mano rankų darbo užklotėlių galite įsigyti Etsy parduotuvėje.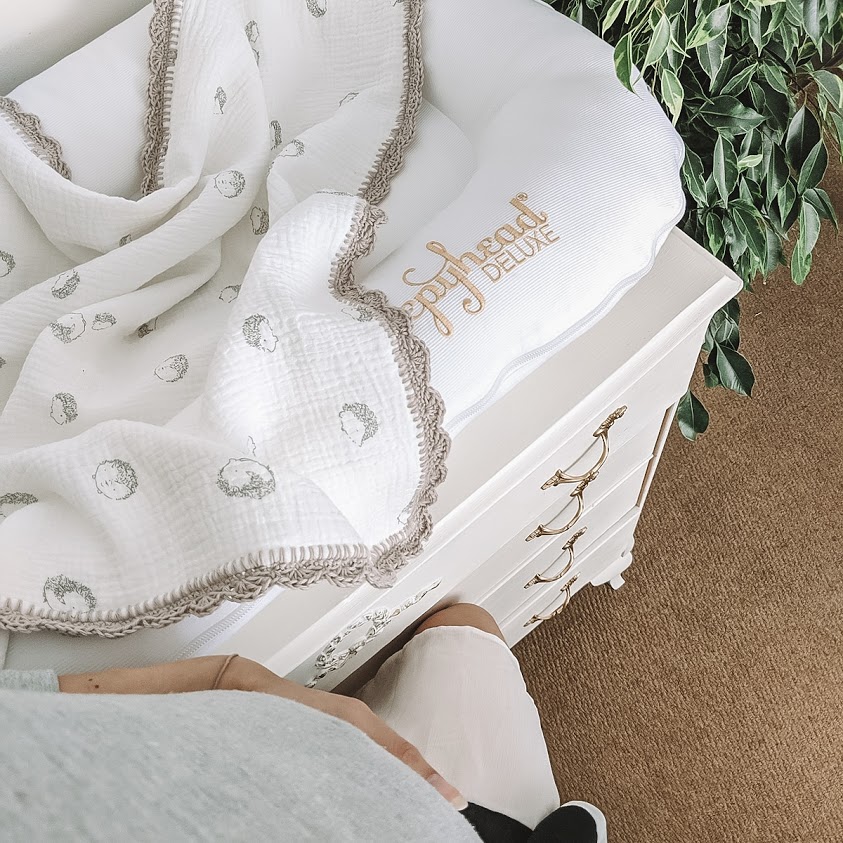 And classic crochet blanket to keep baby warm /  Ir klasikinis nertas užklotėlis, kuomet reikia daugiau šilumos
Wool Socks
I also used a lot of hand-knitted wool socks for the first weeks, simply because newborns might be too immature to regulate their own temperature, even in a warm environment. Because babies have poor circulation at first, their feet are often colder than ours. So I kept Meya warm in merino wool socks and I think they just look so cute!
For the firsts months, I found Sleepyhead pod extremely useful. My little one felt very cosy in it and enjoyed napping in it. It's great that you can take it anywhere with you!
---
Namuose, pirmaisiais mėnesiais labai pasitarnavo Sleepyhead lizdelis. Jame mažylė jautėsi labai jaukiai ir gerai miegojo, o lizdelį galima nešiotis visur su savimi.
First day at home / Pirmoji diena namuose
With my handmade muslin blanket and merino wools socks / Su mano rankų darbo užklotėliu ir kojinytėmis
Toys
I found toys shops quite scary. How many plastic objects they are trying to sell for our kids? I always try to go for a wooden option when possible, especially with baby toys. You want what babies put in their mouths to be natural, not plastic. Yes, wooden toys are more expensive, however, babies don't need much, especially for their first months. I only had a few items for Meya at this stage.
---
Žaislų parduotuvės mane šiurpina. Kiek daug plastikinių objektų ten bandoma parduoti vaikams? Visada, kada tik įmanoma renkuosi medinį variantą, ypač kuoment kalbama apie žaislus kūdikiams. Kūdikiai viską kiša į burną, todėl noriu, kad tai būtų ne plastikas, o natūrali medžiaga. Nors mediniai žaislai ir brangesni, kūdikiams daug nereikia, ypač pirmaisiais jų gyvenimo mėnesiais. Tam laikotarpiui turėjau vos kelis.
Wooden Play Gym
Wooden Play Gym was something I really wanted for Meya. Most of the time babies spend lying and the baby gym is a perfect way to entertain babies for the first months. The hanging toys with different textures, colours and noises help baby's visual awareness while noisy parts can encourage the development to search for sounds. It encourages their cognitive development by engaging with their surroundings and uses their senses.
I got my wooden gym from
Ecoteething
and couldn't be happier! It's pretty, sturdy and easy to pack away. And the best thing, that you can hang random items on it such as ribbons, feathers, leaves etc.
---
Medinis lavinamasis stovelis buvo vienas iš tų daiktų, kurių labai norėjau savo dukrytei. Kadangi daugiausia laiko kūdikiai praleidžia gulimoje padėtyje, medinis stovelis puikiai tinka jų dėmesiui patraukti pirmaisiais mėnesiais. Kabantys žaisliukai su skirtingomis tekstūromis, spalvomis ir garsais atkreipia vaikučio dėmesį, o garsas stimuliuoja vystymąsi skatinant ieškoti iš kur sklinda garsas. Taip stovelis skatina kognityvinę raidą ir reakciją į aplinką.
Mano medinis stovelis yra iš
Ecoteething
. Stovelis nuostabus, negaliu juo atsidžiaugti! Tvirtas, gražus ir lengvai sulankstomas. O geriausia, kad ant jo galima pakabinti įvairius dalykus, tokius kaip kaspinas, plunksnos, lapai ir t.t. – mažyliams jums viskas įdomu.
I received a Gobbi Mobile from a friend. These help babies develop their eyesight and hand-eye coordination. If you are interested in Montessori ideas, you definitely heard about it already. Meya loved it so much that her first smiles were actually for Gobbi Mobile! So I decided to make some more in different colours.
I also listed a few for sale on Etsy
(and you can order them in any colour).
---
Iš draugės gavau dovanų Gobbi Mobile. Ji padeda kūdikiams vystyti akių ir akių-rankų koordinaciją. Jeigu domitės Montessori idėjomis, tikrai esate apie ja girdėję. Mėjai Gobbi Mobile taip patiko, kad pirmosios šypsnenėlės būtent jai ir buvo skirtos! Todėl nusprendžiau pasidaryti jų daugiau, įvairių spalvų,
o keletą jų įkėliau ir pardavimui Etsy'je
(arba galite užsakyti norimą spalvą)
Play Mat
I didn't want those popular puzzles as they smell horrible. I wanted something natural and simple. When I came across this playmat from
Elodie Details
, I knew this is the one. Soft, comfortable and stylish. You know I love long-lasting and multifunction items. I love this mat because it's neutral and later can be used in any other room or terrace.
---
Nenorėjau įprastų puzzle kilimėlių, nes jie skleidžia baisų kvapą. Norėjau kažko natūralaus ir paprasto. Kuomet pamačiau šį
Elodie Details
kilimėlį, žinojau, kad tai TAS kilimėlis. Minkštas, jaukus ir dailus. Viena ir priežasčių, kodėl pasirinkau šį kilimėlį yra jo funkcionalumas. Kadangi jis neturalus, be jokių vaikiškų piešinukų, vėliau galėsiu jį naudoti bet kuriame kambaryje ar lauko terasoje.
Black & White Cards or Books
Until around 3 months babies see only black and white. That's why they love to look at these black and white cards or books. You can buy them
online
or simply print them yourself (this little book has been given by our health visitor). And it's great for tummy time! Meya loved staring at these.
---
Iki maždaug 3 mėnesių kūdikis mato tik juodą ir baltą spalvas. Būtent todėl jiems taip patinka žiūrėti ir kontrastingas, juodai baltas korteles ar knygutes. Jų galite įsigyti
online parduotuvėse
arba tiesiog atsispausdinti ir pasidaryti patys. Be to, šios kortelės puikiai tinka skatinant kūdikį gulėti ant pilvuko. Mėjai labai patiko stebėti šiuos piešinukus.
In summer our dream came true when we bought our family house in Bristol outskirts. We moved in when Meya was 2 months old. It was a very exciting but very tiring experience at the same time. I knew that moving house with the baby will be hard but was probably 100 times harder than I imagined. For this and many other reasons, for the first months, I only used disposable nappies. Once we settled, I found time to research all about reusable nappies, got a new washing machine installed and felt ready to start reusables – but all about it in my next post.
---
Vasarą išsipildė dar viena mūsų svajonė, kuomet įsigijome mūsų pirmą šeimos namą Bristolio priemiestyje. Į naujus namus persikėlėme kuomet Mėjai buvo 2 mėnesiai. Žinojau, kad kraustytis su kūdikiu nebus lengva, bet buvo turbūt 100 kartų sunkiau nei numaniau. Dėl šios (ir daugelio kitų priežasčių), pirmaisiais mėnesiais naudojau tik vienkartines sauskelnes. O kuomet įsikūrėme, radau laiko pasiskaityti apie daugkartines sauskelnes, įsigijome naują skalbimo mašiną ir jaučiausi pasiruošusi daugartinėms sauskelnėms – bet apie tai, kitame įraše.
All in all, our first three months were quite romantic and idyllic. I know it's popular now to complain and talk loud about the "reality of motherhood" but I never thought that growing a baby is an easy task. Never imagined it won't be challenging. And after the first baby just been mentally prepared for everything. I just feel thankful, happy even when I'm tired. But then you look at these little fingers and all tiredness disappears!
---
Apibendrinant galiu pasakyti, kad mūsų pirmieji mėnesiai buvo gana romantiški ir idiliški. Žinau, kad dabar gana populiaru pasiskųsti ir papasakoti "nepudruotą motinystės realybę", bet aš niekada negalvojau, kad auginti kūdikį gali būti lengva. Niekada nemaniau, kad tai nebus iššūkis. Ir po pirmojo kūdikio jau buvau psichologiškai pasiruošuosi viskam. Aš tieisog jaučiuosi be proto dėkinga, laiminga net ir būdama pavargusi po bemiegės nakties. Pažiūri į tuos mažus pirščiukus ir pamiršti nuovargį.
Love,
E.