I apply the Simplicity approach to all aspects of my life, including Parenting. After spending years of embracing Simplicity and Minimalism philosophies, I feel very confident in my decisions. I never worry about what my friends are doing or what they may think about my choices. I know there are divided opinions about second-hand items for the baby, but I am very open to buying most things for a baby pre-loved. Here are some of the reasons, why second-hand doesn't mean second-best!
---
Paprastumą taikau visose savo gyvenimo srityse, įskaitant ir motinystę. Praėjus keletui metų praktikuojant paprastumą ir minimalizmą, daug apie tai skaičius ir domėjusis, tapau labai užtikrinta savo sprendimais. Niekuomet nesijaudinu dėl to, kad mano draugų ar artimųjų spendimai labai skiriasi nuo mano ir nepergyvenu, ką jie galvoja apie mano pasirinkimus. Žinau, kad dėl pirkimo dėvėtų daiktų ir rūbėlių kūdikiams daugelis turi skirtingą nuomonę, tačiau aš tam esu labai atvira. Beveik viskas, ką pirkau kūdikiui yra iš antrų rankų ir štai kelios priežastys, kodėl mano nuomone dėvėti daiktai niekuo neprastesni už naujus.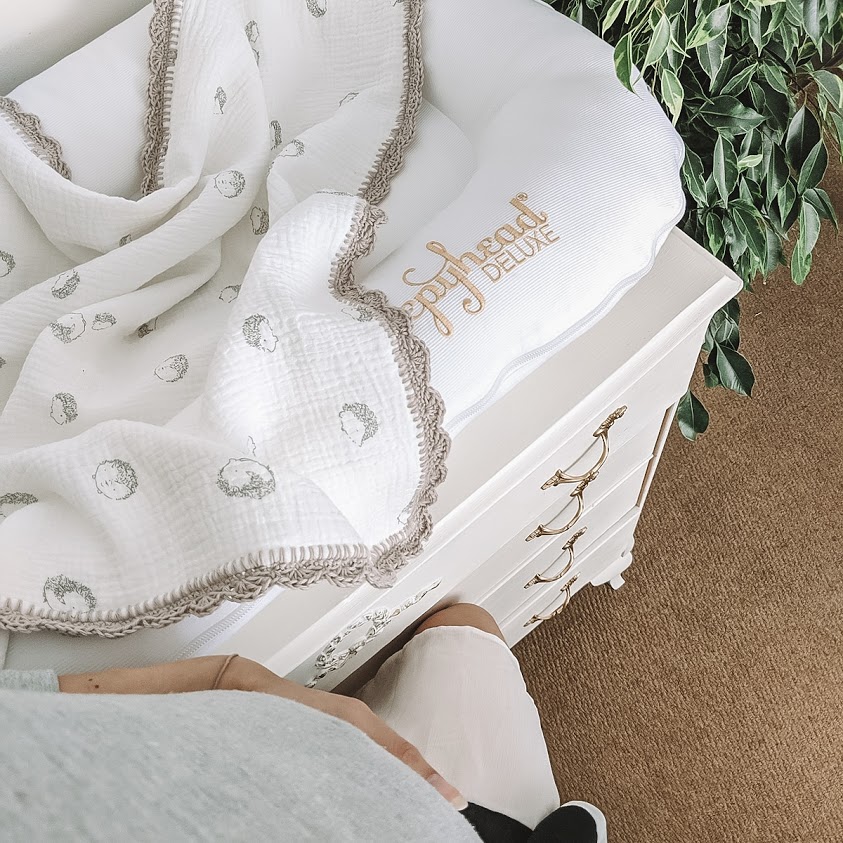 Great Quality
Everyone wants a few special outfits for their newborn but the lifespan of baby clothes is so short (sometimes only weeks), that used clothes are rarely worn-out. When I was pregnant with my first daughter everyone told me how quickly babies grow. I kind of understand it as a fact but I didn't realise that they grow SO FAST! Some of the clothes I didn't even have a chance to put on and they were outgrown. So the reality is, baby stuff is hardly used as they grow so fast.
---
Turbūt kiekviena mama nori kelių tų ypatingų drabužėlių savo mažyliui, bet reta kuri suvokia, kaip trumpai tie drabužėliai tarnaus. Kartais, tai būna vos kelios savaitės! Kuomet aš laukiausi savo pirmagimės, man visi kartojo, kaip greitai kūdikiai auga. Aš ir pati tą žinojau, kaip faktą, tačiau gimus dukrytei vistiek buvau nustebinta, kad ji auga TAIP greitai! Dėl šios priežasties kūdikių drabužiai būna itin kokybiški, nes jie būna padėvėti vos kelis kartus, o kaip kurie – nei karto.
Saves Money
Having a baby is an expensive business. Especially because parents want all the best, the trendiest, the most wow for their babies. According to some reports, new parents will spend £5,000 on our baby before their first birthday! However, buying some items secondhand is a great way to save money. For example, I have everything I need for up to 3 months and some items for up to 6 months within a few hundred pounds budget! The circle closes when you sell the used items again. If you buy new, you get at approximately 1/3 to 1/2 of the purchase price back. But when selling what you bought second hand, you can sometimes even sell them for the same price.
---
Kūdikėlis atneša ne tik daug džiaugsmo, bet ir išlaidų. Ypač dėl to, kad dauguma tėvelių norsi savo vaikučiams paties geriausio, madingiausio ir visokio kitokio -iausio. Remiantis tyrimais, skaičiuojama, kad iki pirmojo vaikelio gimtadienio tėvai jam išleidžia apie £5000! Perkant kaip kuriuos daiktus naudotus, galima sutaupyti labai daug pinigų. Pavyzdžiui, aš jau turiu viską ko reikia kūdikiui iki 3 mėnesių ir kaip ką iki 6 mėnesių, o laisvai telpu į kelių šimtų svarų biudžetą. Padėvėtus daiktus, galite vėl parduoti. Jeigu pirkote naujus, reiškia atgausite tik pusę arba trečdalį išleistos sumos. Tačiau daiktus, kuriuos jau pirkote dėvėtus, dažnai galite parduoti už tą pačią kainą.
Saves Planet Resources
In the UK, each week we buy 38m items and 11m items go to landfill. We all consume way too much! And it starts from the early days. Buying a second hand is just a lot more sustainable. There's a lot of water and chemicals that go into our clothes. When I say a lot, I mean 7600 litres of water to make one pair of blue jeans! Giving baby items a second, third or fourth life after the kids outgrew them is really good for the environment. And it's one of the best things you can do for your little one – take care of the planet they will live on.
---
Vien Didžiojoje Britanijoje, kas savaitę nuperkame 38 milijonus daiktų ir 11 milijonų būna metami lauk. Besaikis vartojimas. Pirkdami iš antrų rankų mažiname vartojimą, kuris prasideda vos kūdikėliui patekus į šį pasaulį. Suteikdami daiktams antrą, trečią ar ketvirtą šansą, sutaupome begalę gamtos resursų, pvz vieneriems džinsams pagaminti prireikia virš 7600 litrų vandens! Planetos tausojimas yra vienas geriausių dalykų, ką galime padaryti dėl savo mažylio – saugokime pasaulį, kuriame jiems reikės gyventi dar daugelį metų po to, kai mūsų nebebus.

It Feels Good
I feel way better to buy from small business, to buy locally and from families, rather than from the big shops. Even if it's only a few pounds, I know that I have potentially saved an item from going to the landfill and added some extra money for the family's needs.
---
Aš visada jaučiuosi daug geriau pirkdama iš vietinių, smulkiųjų verslininkų ar tiesiog šeimų, nei kad apsipirkinėdama dideliuose prekybos centruose. Net jei tai tik keli svarai, aš žinau, kad galimai ne tik išgelbėjau daiktą nuo keliavimo į šiukšlyną, bet ir suteikiau šeimai papildomų pajamų.
New Isn't Cleaner
Many people prefer to buy new stuff because it looks fresh and clean. Yet those clean-looking clothes can be coated in all kinds of dirt, bacteria and pollutants. They have been touched and handled by many people during the manufacturing and shipping process, not to mention the store shelf.  Furthermore, many garments are dyed or treated by harsh chemicals and should be washed anyway before you let them be worn by your kids. The used clothes have already been washed so often that certainly no harmful substances are left in.
---
Daugelis žmonių galvoja, kad nauji daiktai iš parduotuvės yra švarūs. Nors jie ir atrodo švariai, tačiau taip toli gražu nėra! Iki tol, kol jie pateko į parduotuvę juos lietė daugybė žmonių, jie krito ant grindų ir t.t. Nuo gamybos iki kelionės į lentynas, kuriose daugybė rankų juo čiupinėjo, nauji daiktai būna pilni bakterijų. Be to, medžiagų dažymas ir pruošimas dažnai įtraukia daugybę chemikalų, kurių nuosėdos lieka rūbuose, todėl prieš juos rengiant vaikams vistiek reikia išplauti.
When I buy second hand I don't feel like I cannot afford new (I can, I just choose not to buy new) or that I am compromising on quality. On the contrary, I feel good because of all the reasons stated above. It's a slow, gradual mindset change. It's not like a switch goes on and all of a sudden. I know what my priorities are and that stuff is never the most important thing. Especially for kids.
Please Note. It's not recommended to buy second-hand car seats, mattresses etc due to the safety reasons, however, you can always buy these things from the people you know and trust.
---
Kuomet perku iš antrų rankų aš niekuomet nesijaučiu prasčiau, nejaučiu jog negaliu sau leisti naujo daikto. Galiu, bet man to nereikia. Nejaučiu ir kad perku prastesnės kokybės. Atvirkščiai, aš jaučiuosi gerai dėl visų priežasčių išvardintų aukščiau. Toks požiūris išsivystė mano galvoje palaipsniui, domintis ekologinėmis problemomis ir aiškiai suvokus savo prioritetus, jog daiktai anaiptol nėra svarbiausia mūsų gyvenime. Ypatingai vaikų gyvenime.
Svarbu. Nerekomenduojama pirkti iš antrų rankų tokių dalykų kaip auto kėdutė, čiužinys ir pan, tokius dalykus patariu pirkti tik iš artimųjų, kuriais pasitikite.
More from the archives on Eco Baby:
Preparing for Baby – Keeping it Minimal and Low Key
Disclaimer. Please note, I have not been paid for this post. As always, I have shared my honest opinion.
Love,
E.