Growing my own food was my dream for quite some time. Our rented house came with a tiny garden and even there I was growing some herbs and strawberries.
Of course, it wasn't enough I was hoping to get my hands on proper gardening one day. As we were thinking about buying our own property, I resisted taking the allotment plot because we didn't know in which area we will end up. It would be heartbreaking to leave it after all effort and time spent on the plot.
So when we bought our house, I looked into the local allotments straight away. As they had a waiting list, I applied before actually moving in our new house. I knew that sorting all the house paperwork will take time, so I wanted to use this time being on a waiting list. It was a smart move because just a few weeks after moving in I got a call inviting us to come and look at our plot. And this is how my allotment journey finally started! Let me show you my first year on the allotment.
---
Apie savo daržą ir daržovių bei uogų auginimą svajojau jau seniai. Net mažutėliame nuomojamo namo kiemuke užsiaugindavau kažkiek braškių bei žalumynų. Bet to nebuvo gana, galvojau apie tą tikrąją daržininkystę. Kadangi planuose buvo nuosavo būsto įsigijimas, savivaldybės nuomojamo ploto daržui (angliškai Allotment) nenorėjau imti tol, kol nežinojau, kur tiksliai gyvensime. Būtų buvę labai gaila įdėti daug darbo ir viską persikrausčius palikti.
Taigi, kuomet pagaliau įsigijome savo namus, pirmiausia susiradau informaciją apie daržus. Kadangi gauti daržo plotą buvo eilė, užsirašiau į ją iš anksto, dar netgi prieš įsikeliant į namus. Žinojau, kad dokumentų tvarkymas užtruks ne trumpai, todėl norėjau tą laiką išnaudoti jau būdama eilėje. Tai buvo labai protingas žingsnis, kadangi vos atsikrausčiusi, gavau skambutį su kvietimu apžiūrėti daržo plotą. Taip prasidėjo mano ilgai laukta daržininkystės kelionė!
November
Before. This how the plot looked like when I got it.
The plot was very neglected and it wasn't the perfect timing as we just bought a house, started a renovation and I had a 3 months baby in my hands! But I knew it's going to be ok because everything is possible when you really want it!  So we took the plot for only £15 a year!
We started clearing the plot straight away. It was very muddy, rainy and cold but I wanted to prepare it for planting everything in spring. At first, we covered most of the plot with cardboard and weed control fabric to control weed growth and worked on the plot by uncovering a small bit at a time.
---
Daržo plotas buvo labai apleistas, o ir pradėti daržininkauti laikas nebuvo idealus – katik įsikėlėme ir namą, kuriame pradedame remontus, o rankose 3 mėnesių kūdikis! Bet aš žinojau, kad viskas bus gerai. Nes kada labai nori – viskas įmanoma. Todėl pasiėmėm daržo plotą už jį sumokėję vos £15 už metus!
Tvarkyti plotą pradėjome iškart. Dienos buvo labai lietingos ir šaltos, bet dirbom iš peties tuose purvynuose, nes norėjosi paruošti daržą pavasario sodinimui. Pirmiausia, uždengėme dalį ploto kartono dėžėmis ir plėvele, tam kad stabdytume žolių augimą. Tvarkėme po mažą plotą.
December
By December I have cut back raspberries (apparently this is what you have to do with autumn raspberries). We planted Blackcurrant, Gooseberry and Red Currant bushes. These were given away for free on Facebook Marketplace so I felt really lucky! I actually managed to sort out two beds and planted garlic straight away!
---
Iki gruodžio  mėnesio nukirpau rudeninių aviečių krūmus –  pasirodo, tą reikia daryti, kad avietės geriau augtų.  Pasodinome įvairių uogų krūmus – juodųjų ir raudonųjų serbentų, agrastų. Juos gavau nemokamai, per FB Marketplace. Be to, spėjau paruošti dvi lysves ir iškart pasodinau česnakus!
Two beds ready for garlic and onions
Planting Gooseberry, Redcurrant and Blackcurrant nearly in the dark!
Cutting back autumn raspberries
Ordered garlic from The Garlic Farm. This is Elephant Garlic, the cloves are massive!
By the end of December garlic showed up!
FEBRUARY
In January we mainly left the plot covered and I just came to check on my garlic and onions and bring some food scraps for compost. In February, gardening mainly happened in my home – sorting out seeds, planning, reading books about allotment and started sowing some seeds. It started getting crowded on my windowsills.
---
Sausio mėnesį daržas buvo paliktas uždengtas, o aš kartais ateidavau patikrinti, kaip auga česnakai ir svogūnai ir atnešdavau maisto atliekas kompostuoti. Vasario mėnesį daržininkystė pagrinde vyko namuose – dėliojausi sėklas, planavau, skaičiau knygas apie daržininkystę ir pradėjau sėti sėklas. Ant palangių pradėjo darytis ankšta.
MARCH
March was busy! I started preparing more beds. My husband was doing the hard job digging the soil and I worked on borders and finishing touches. For borders, I used rockery stones that were given away for free. Everything was going smoothly and we prepared one bed after another one but then lockdown has happened and we were forced to slow down.
I was happy that we were still allowed to come to the allotment (as it was considered by the government as a form of exercise) however the number of people per plot was limited to 2 people. It means, that I had to continue working on my plot on my own because we were no longer able to come here with both kids. I was going to the plot every evening with Melita and it became a lovely distraction, a quality mother's and daughter's time and simply a pleasure.
---
Kovas buvo darbingas! Pradėjome ruošti lysves. Mano vyras atliko sunkųjį darbą, sukasinėjo žemę, o aš tvarkiau lysves. Bandžiau paprastai padaryti pakeltas lysves, o rėmams panaudojau žmonių atiduotus akmenis. Viskas klostėsi sklandžiai, ruošėme vieną lysvę po kitos, tačiau tada mus ištiko karantinas ir buvom priversti sulėtinti tempą.
Buvau labai laiminga, kad į daržą buvo galima eiti net ir karantino metu (valdžia taip skatino išlaikyti fizinį aktyvumą karantino metu), tačiau nauja taisyklė buvo tokia, kad į daržą galima ateiti ne daugiau kaip dviems asmenims. Tai reiškė, kad į daržą su vyru kartu eiti nebegalėjome, nes vienam reikėjo likti namuose su kažkuriuo iš vaikų. Kiekvieną vakarą į daržą eidavom su vyresne dukra ir tai tapo savotiška ramybės terapija, atsitraukimu nuo visko, kokybiškas mamos su dukra laikas – tikras malonumas.
Unfortunately, found lot's of plastic waste
Planted rosemary and thyme
 Mostly everything I was growing from seed.  Some things you can sow direct into the ground when it starts to warm up whereas others need germinating inside first. At home, at this point, I was growing a mixture of veg like peas, tomatoes, courgettes and flowers like sweet peas.
Here you can see tomatoes taking over my dining room. As it was not allowed to build a greenhouse in the allotment, all plants were growing in my home.
---
Beveik viską auginau iš sėklos. Kaip kurias sėklas galima buvo sėti tiesiai į žemę atšilus orams, kitoms sėkloms reikia didesnės šilumos, todėl pirmiausia sėjau namuose. Kovo mėnesį namuose jau augo daugybė daržovių, tokių kaip žirneliai, pomidorai, cukinijos ir daug gėlių – kvapusis pelėžirnis, mini saulėgrąžos, ramunėlės ir medetkos.
Nuotraukoje matyti, kaip pomidorai užkariauja valgomojo teritoriją. Kadangi daržo taisyklės neleido statyti šiltnamių, daržoves teko auginti namuose.
APRIL
At the start of April, I received a call from Allotment informing me, that some kids broke into allotments and damaged some sheds. Unfortunately, they set on fire mine and it turned into ashes. My garlic was very close to the shed and therefore damaged from the fire but I left them untouched, hoping they will recover. Anyway, it didn't kill my enthusiasm and I used ashes to fertilise the soil! It was the month then everything started growing quickly and I was so excited! The weather was fantastic, everything suddenly became green. And even though sunny and dry days meant lots of watering, I couldn't be happier with everything.
---
Balandžio pradžioje gavau skambutį iš daržų asociacijos, kad vaikai įsibrovę į daržus pridarė žalos, apgadino keletą sodo namelių. Deja, maniškį padegė ir iš jo liko tik pelenai. Prie pat namelio buvo pasodinti česnakai, kurie gana stipriai nukentėjo, tačiau aš jų neliečiau ir palikau augti su viltimi, kad atsigaus. Bet kokiu atveju, tai nenužudė mano entuziazmo, o pelenus panaudojau kaip trašą žemei! Tai buvo mėnuo, kada viskas pradėjo augti, žaliuoti ir aš tiesiog spirgėjau iš džiaugsmo.
Planted peas
Melita helps to carry plants to the allotment – these are calendulas.
In April many seeds can be sown straight into the soil and very quickly carrots, beetroots, spinach, sorrel etc showed up.
---
Balandį jau daug ką buvo galima sėti ir lauke, sudygo morkos, burokėliai, špinatai, rūgštynės ir pan.
As greenhouses are against our allotment rules, I decided to buy one in our back garden.  You can read my post about Backgarden Greenhouse. When we finally assembled it, I moved many plants from home into the greenhouse to wait until they will be taken to the allotment. I had lot's of tomatoes, so planted some in the greenhouse and kept the rest to take to the allotment.
---
Kadangi daržo taisyklės draudžia statyti šiltnamius, neištvėriau ir nusprendžiau nusipirkti ir pasistatyti savo kieme. Kaip rinkausi šiltnamį ir kokius jam kriterijus taikiau, galite paskaityti įraše Backgarden Greenhouse. Kuomet pagaliau pasistatėme šiltnamį kieme, ten sunešiau visus augalus iš namų laukti savo persikraustymo į daržą. Kadangi turėjau labai daug pomidorų, dalį jų pasodinau šiltnamyje , kitą dalį laikiau vazonuose iki kol pakankamai atšils, kad saugiai būtų galima sodinti lauke.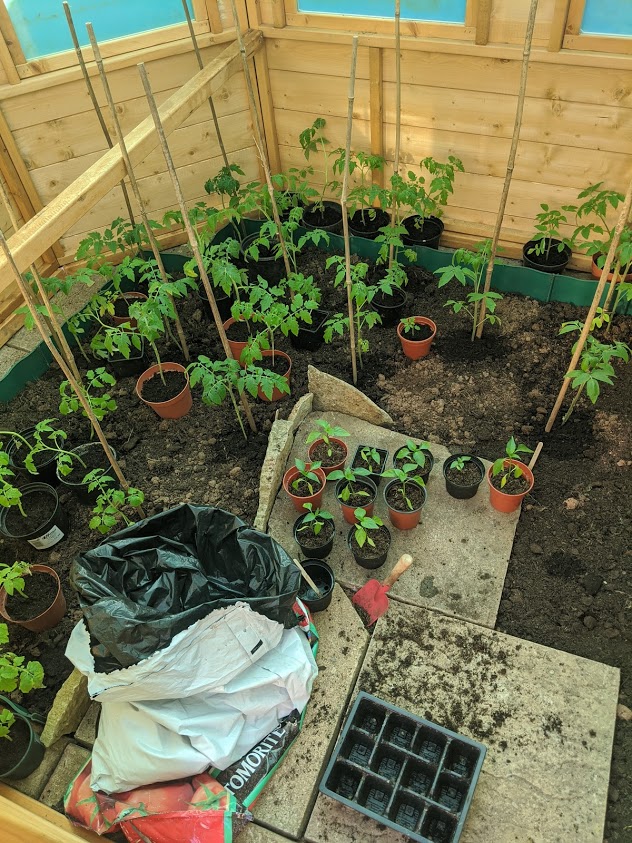 Poped in allotment after a walk in the park to water sunflowers that just been transferred into allotment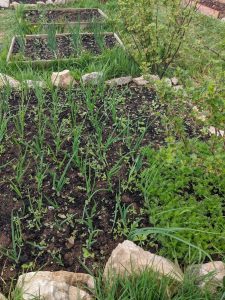 Green everywhere. Onions and german camomile for my zero waste tea
MAY
At the end of April, I received a delivery of wood chip from the local tree surgeon and started covering paths with it. I layered cardboard (to suppress weeds) and the woodchips on top.
In May I have planted out most of the plants I kept in my greenhouse. Started with courgettes, pumpkins at the start of the month and cucumbers at the end. Everything was growing nicely and I actually started harvesting some food! We had some radishes, onion greens, spinach, salad etc. Melita was very excited about strawberries and every day ran first to check if there are any more ready to eat. We had only a few strawberries plants as I was unable to buy more during the lockdown but I'm planning to grow more next year!
---
Balandžio gale iš vietinio medžių genėtojo gavau daug medienos drožlių, kuriomis pradėjau dengti daržo takelius. Pirmiausia klojau kartono dėžes (kad stabdytų žolių augimą), tada pyliau medienos drožles.
Gegužės mėnesį didžioji dalis augalų, laukusių eilės išsikraustyti iš šiltnamio, pagaliau iškeliavo į daržą. Pirmiausia cukinijos, moliūgai, o mėnesio gale ir agurkai. Viskas augo greitai, gražiai ir prasidėjo derlius. Valgėme ridikėlius ir įvairius žalumynus – svogūnų laiškus, špinatus, salotas. Melita labai džiaugėsi braškėmis ir visada pirmiausia bėgo tikrinti ar yra naujai prinokusių. Braškių turėjome labai ne daug, kadangi karantino metu nebuvo kaip nusipirkti, bet kitais metais ketinu sodinti daugiau.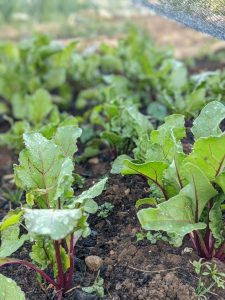 JUNE
From June everything went crazy and suddenly we had produce coming out of our ears! I was so excited about every single piece I have harvested! Everything tastes so much better when it's grown by you and freshly picked. Everything we grew was 100% organic, I haven't used any fertilisers. We started harvesting not only various greens but also peas, alpine strawberries, carrots, beetroot, courgettes. The cucumber was on the way!
In June I planted out beans but next year I will do it earlier as it wasn't enough time for beans to properly mature. I also managed to get a new-old,  shed completely free as someone was giving it away!
---
Nuo birželio prasidėjo crazy etapas, kada rodėsi, jog daržovės auga ir iš ausų! Aš buvau tokia laiminga, džiaugiausi kiekviena daržove, nes jų skonis visiškai kitoks nei parduotuvinių. Viską auginau natūraliai, todėl daržovės buvo ekologiškos. Pradėjome skinti  ne tik įvairius žalumynus, bet ir žirnius, žemuoges, morkas, burokėlius, cukinijas. Nekantrai laukėm trumpavaisių agurkėlių, kurių UK parduotuvėse pirkti nebūna!
Birželio mėnesį lauke persodinau pupeles, tačiau kitais metais tą daryti žadu anksčiau, kadangi kaip kurioms pupelėms subręsti pritrūko šiek tiek laiko. Birželio mėnesį pasisekė pasistatyti ir seną-naują namelį, kurį gavau visiškai nemokamai.
Promised to grow more peas next year!
Old-New shed
Made a step using rockery stones
Cucumber at the start of June and below at the end of June
Rainbow Carrots
JULY
Another peak month of amazing harvest! Not only I had lot's of greens and veggies but cut flowers too! Sweet peas and dwarf sunflowers went crazy and no doubt I am sowing these next year again. In July I also repainted my shed in pastel minty colour and changed broken window.
---
Liepa – dar vienas turingas derliumi mėnuo. Ne tik skyniau daug žalumynų ir daržovių, bet ir gėlių! Kvapusis pelėžirnis, žemaūgės saulėgrąžos žydėjo kaip išprotėję. Kitais metais jų ir vėl būtinai sodinsiu. Liepos mėnesį truputį atnaujinau daržo namelį – perdažiau ir pakeičiau įskilusį langą.
Little helper carrying courgette home for her dinner
Finally! First cucumbers in early June!
Girls eating cucumbers in their beans teepee tent
AUGUST
We managed to grow way more than we can eat, so I started thinking of ways how to preserve food. I started drying, freezing, making jams, pickles, chutneys, sauces and so on! I surprised myself. It wasn't planned, everything flow naturally.
---
Visko prisiauginom daugiau nei galėjome suvalgyti, todėl pradėjau galvoti, kaip išsaugoti perteklių žiemai. Pradėjau džiovinti, šaldyti, rauginti, gaminti padažus ir įvairius čatnius. Kas būtų pagalvojęs! Nustebinau pati save! To neplanavau, tiesiog viskas vyko natūraliai ir tvarkiausiai su esama situacija taip, kaip tuo metu atrodė geriausia.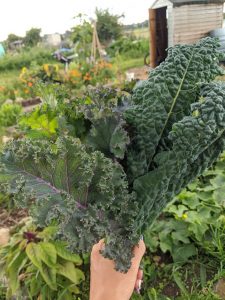 We are huge fans of sorrel soup which is very Lithuanian thing. So I canned some for winter
Every few days I came home with a bunch of green beans. I have canned some and froze some too
Calendula was blooming for probably half year and I was constantly picking it drying leaves for my zero waste tea, bath soaks and for the bunny to eat. I also dried mint, lemon balm, rosemary and other herbs.
---
Medetkos žydėjo nesustodamos turbūt pusę metų ir aš nuolat skyniau žiedus džiovinimui. Sudžiovinti žiedlapiai bus naudojami arbatai, vonios druskos mišiniams ir kiškučiui valgyti. Taip pat džiovinau mėtos lapelius, rozmariną ir kitas arbatžoles bei žoleles.
I had to remove my tomatoes in allotment early (due to the blight) so had only little but managed to grow lots of in my greenhouse!
I felt overwhelmed by the number of cucumbers I picked! A bag every few days! Luckily we love pickles so I learnt how to ferment and prepared a lot for winter. It turned out delicous!
---
Agurkų derlius buvo kosminis. Kas pora dienų prisiskindavau krepšį! Kadangi labai mėgstame raugintus agurkus, išmokau raugti ir pasiruošiau daug žiemai. Buvau nustebinta, kaip skaniai gavosi!
SEPTEMBER
After summer it was a month of slowing down. The main summer crops were going to an end and it was replaced by winter crops, such as kale, celery, swiss chard, pumpkins. However, this happened only at the end of September, I still harvested lots of food during the month as it's pretty warm here in the UK.
---
Rugsėjo mėnesį, po vasaros darbymečio atėjo sulėtėjimas. Pagrindinis vasaros derlius ėjo į pabaigą, prasidėjo rudeninės daržovės, tokios kaip lapinis kopūstas, salieras, lapiniai runkeliai, moliūgai. Tačiau visa tai vyko tik rugsėjo gale, kadangi rugsėjis dar pakankamai šiltas.
Celery season
At the end of August, raspberries season started and lasted till the end of October. My little one used to go straight to raspberries, picking them by her own and eating straight away! She never ate so many at a time raspberries from the shop. This proves that homegrown food tastes so much better!
---
Rugpjūčio mėnesio gale prasidėjo aviečių sezonas, kuris tęsėsi iki pat lapkričio. Mano mažoji tik atėjus į daržą iškart bėgdavo prie aviečių krūmų, pati skynė ir iškart valgė. Ji niekad nesuvalgydavo tiek daug aviečių iš parduotuvės, kaip iš daržo. Tai puikus įrodymas, kad joks parduotuvinis produktas, skoniu negali pralenkti namie auginto.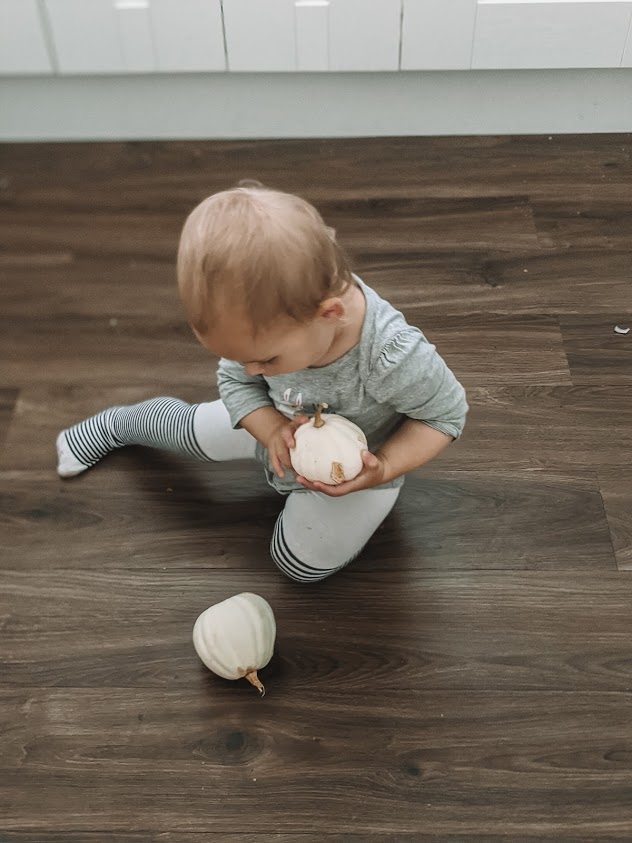 Life Cycle…
I see an allotment as one of an essential element of living a happier, healthier and more sustainable life. I love how allotment allows escaping the city and the feeling of self-sufficiency from growing ones own flavorful organic vegetables. But most of all I enjoy the connection to nature and its seasonal cycles. Since having allotment I feel closer to nature than ever and it's a fantastic resource of knowledge about nature for my girls. I feel so privileged to be able to show them where the fruit and vegetables they eat come from, the cycle from sowing the seed to actually tasting veggies and fruits.
---
Daržą matau kaip vieną iš esminių elementų norint gyventi laimingesnį, sveikesnį ir tvaresnį gyvenimą. Jis leidžia pabėgti nuo miesto gyvenimo ir suteikia nepriklausomybės jausmą, kuomet valgomas pačių užaugintas, ekologiškas maistas. Bet labiausiai džiaugiuosi tuo, kaip daržo dėka suartėji su gamta ir jos sezoniniais ciklais. Nuo tada, kai atsirado daržas, jaučiuosi šalia gamtos labiau nei bet kada. Be to, daržas yra puikus būdas pažinti gamtą vaikams. Nuostabus jausmas suteikti galimybę dukroms matyti gyvenimo ciklą nuo pat sėklos sėjimo į žemę, iki daržovės ragavimo.
In autumn I started collecting seeds, clearing the beds and preparing for the next year, for a new cycle. I have already started a new cycle as just planted garlic! I'm excited about the new season in spring and have so many ideas on how to improve my allotment!
---
Rudenį pradėjau rinkti sėklas, tvarkyti lysves ir ruošti jas kitiems metams, naujam ciklui. O naujas ciklas jau prasidėjo, kadangi visai neseniai pasodinau česnakus! Nekantriai laukiu naujo sezono pavasarį ir turiu daug idėjų.
MY ALLOTMENT PLOT IN NOVEMBER 2019
AND NOVEMBER 2020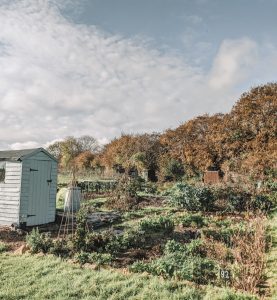 Let's wait to see the difference in November 2021!
Disclaimer. Please note, I have not been paid for this post. As always, I have shared my honest opinion.
Love,
Egle